If I could explain Bogota, Colombia in one word it would BIG. With an estimated population of 10 million split into 21 neighborhoods, the many people of Bogota live in a valley surrounded by lush mountains from every angle. It would be impossible to truly get to know Bogota, Colombia in the five days we were there, but I feel like we got a great start to understanding this bold and bustling city in the clouds. Here are a few of our favorites: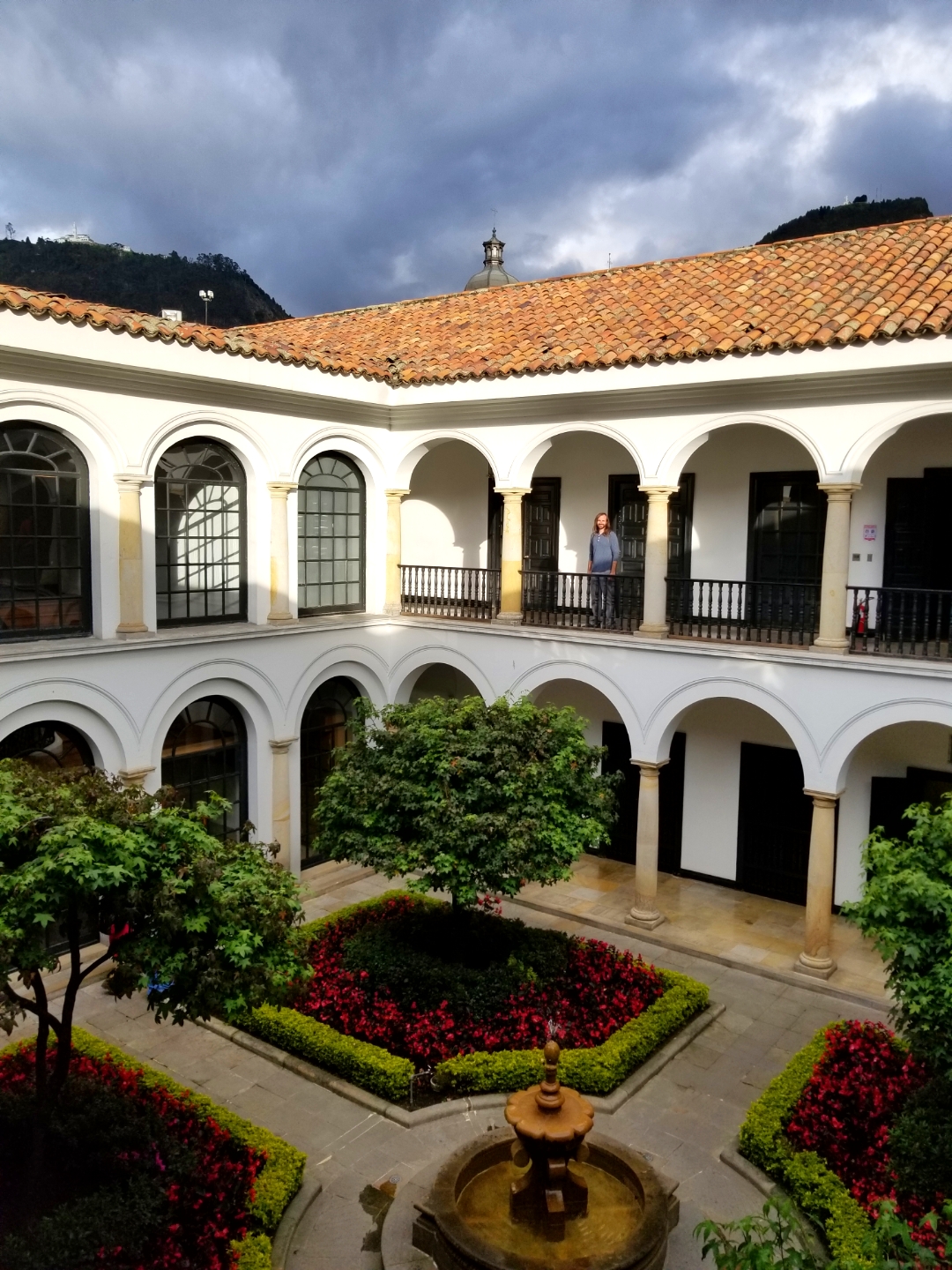 Bogota Art — The Botero Museum (Museo Botero)
Our favorite art in Bogota can be found in the Botero Museum, which is filled with paintings and sculptures from Medellín's favorite local artist, Fernando Botero. He explores and expresses a lifelong interest in "volume" in his art. Some politically-charged, some fun, all fat, we enjoyed the artwork found in this beautiful and beloved museum that is free to the public. His art was gifted to this museum by Botero himself. Check out some of our favorites below:
Bogota Beauty — Mount Monserrate (Cerro Monserrate)
Throughout the city, you can see a grand white church atop its eastern mountain of Monserrate. Whether you'd like to attend mass or simply explore the area, you can take a cable car or train to the top, or you can complete the upward climb yourself. If was raining buckets so we took the cable car. We found this to be the most beautiful place in Bogota and would highly recommend it.
PRO TIP: The ticket prices for the cable car and train were a bit higher than we expected.
You — and church-goers — can get them for ½ price on Sundays. If the weather is nice, hike up to the top for free.
Once the rain cleared and the clouds moved over the city, we took incredible pictures of the view: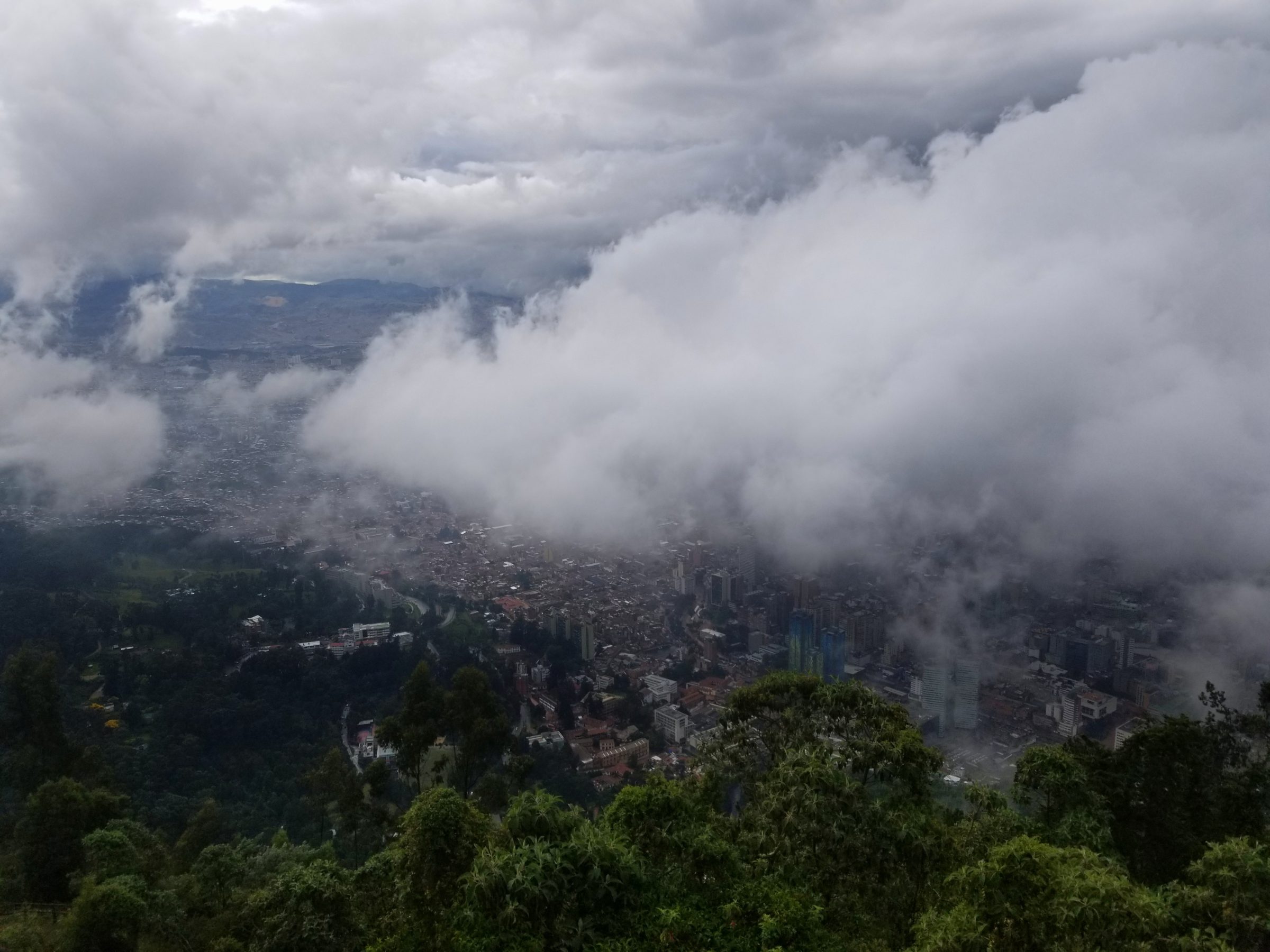 PRO TIP: There is plenty of food to be found atop Monserrate.
When you first exit the cable car or train, there is a concession stand and fine dining at a restaurant to the right. Go left instead — after walking past the church you will see souvenir vendors and a huge white tent with over a dozen food vendors. Walk to the end — we thought the last vendors had the best-looking food and prices.
Bogota Food
Bogota, and all of Colombia, has its own flair for food. We enjoyed a free food tour (you only pay for the food itself and tip your guide) on our first day and wrote about the great experience and foods here. To summarize some interesting things we learned about the food in Bogota: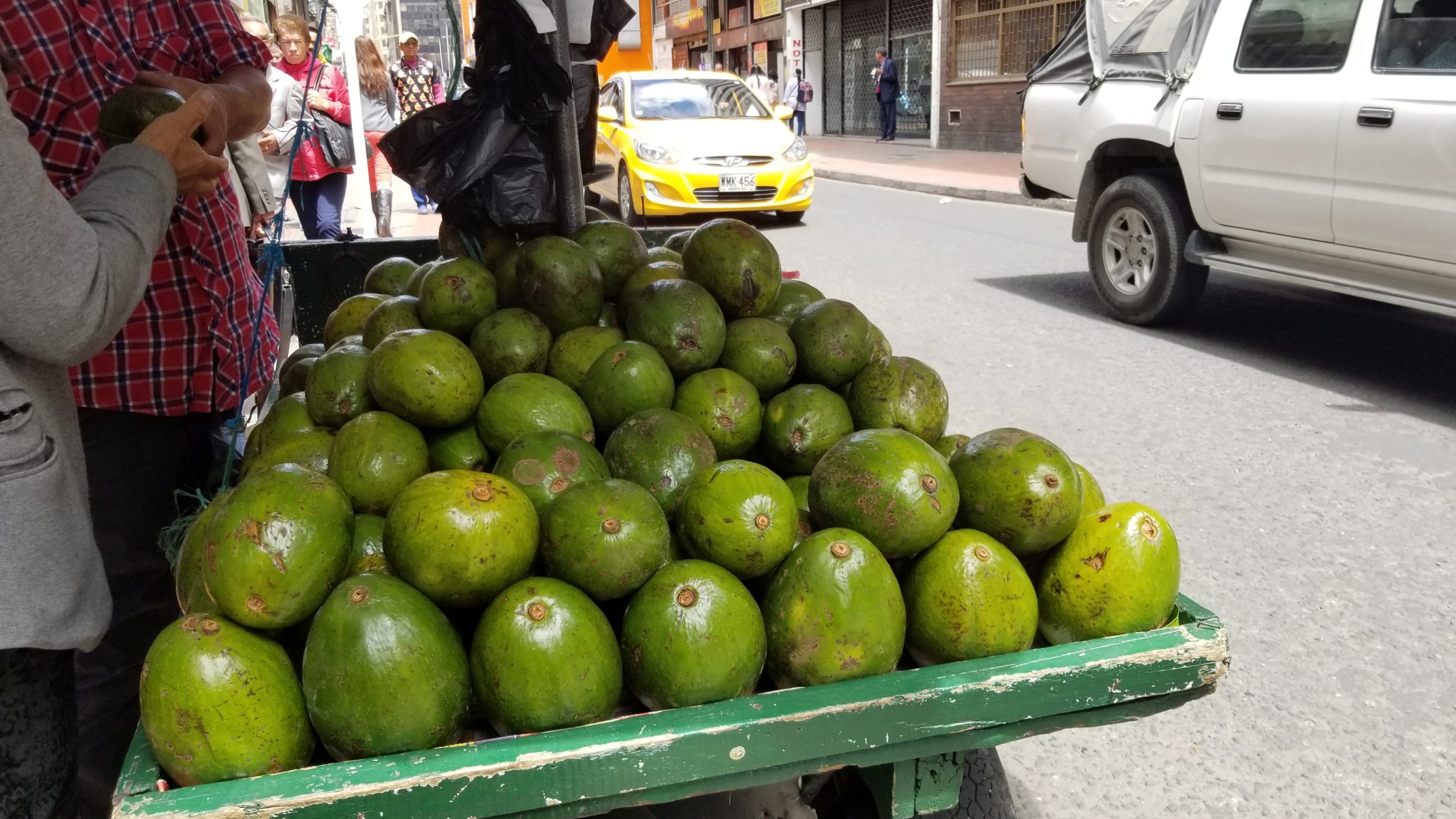 Cheese
Colombians love cheese and even add it to sweets like obleas and hot chocolate.
Vegetables
In general, they don't eat many vegetables. When asked why, our guide joked they didn't know what to do with them. Another from the group then responded, "The same as everything else! Cover them with cheese!"
Fruits
They have SO many fresh fruits. A walk along Bogota's downtown or historical squares will give way to vendors selling perfectly-ripened and fresh-cut fruit in large plastic cups for snacking. I couldn't get enough mangos — at least two entire mangos (maybe even three) were peeled, sliced, placed in a large cup, and sold for $2000 COP each. That's about $.63 USD at the moment. Pure bliss. They have avocados larger than your stomach here, too.
Juices
With great fruits come great responsibilities. Freshly-blended natural juices (jugos naturales) are everywhere, and can satisfy even my sweet tooth!
Cornmeal
Instead of white flour, a lot of cooking and baking is done with cornmeal. It adds a pop of flavor and wonderful texture that is oh-so-Colombia.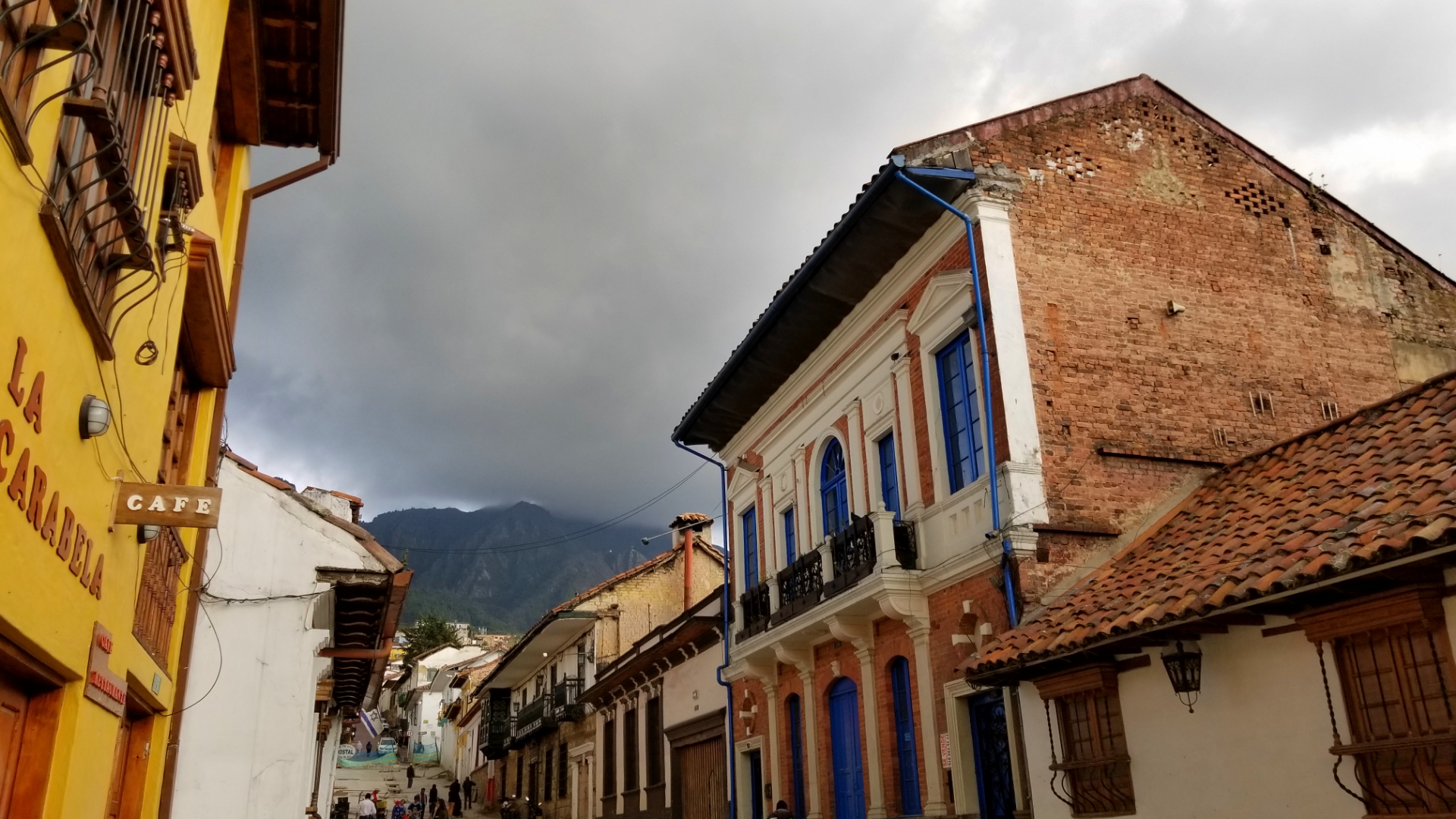 Bogota Language
We read it was easier to understand people in Colombia than many other Spanish-speakers while first learning the language, and we'd have to agree! After any Colombians find out we are still learning their language, they slow down their speech (like really, really slow) for us, enunciate very clearly, and really work with us to understand them. It's truly remarkable! Read about our challenges with learning Spanish here.
We've met people from other Spanish-speaking countries, for example Argentina, and found their dialect and quick speech to be more difficult to understand. Even though fewer people here speak English as a fall-back measure, we were lucky to start our journey and language immersion here.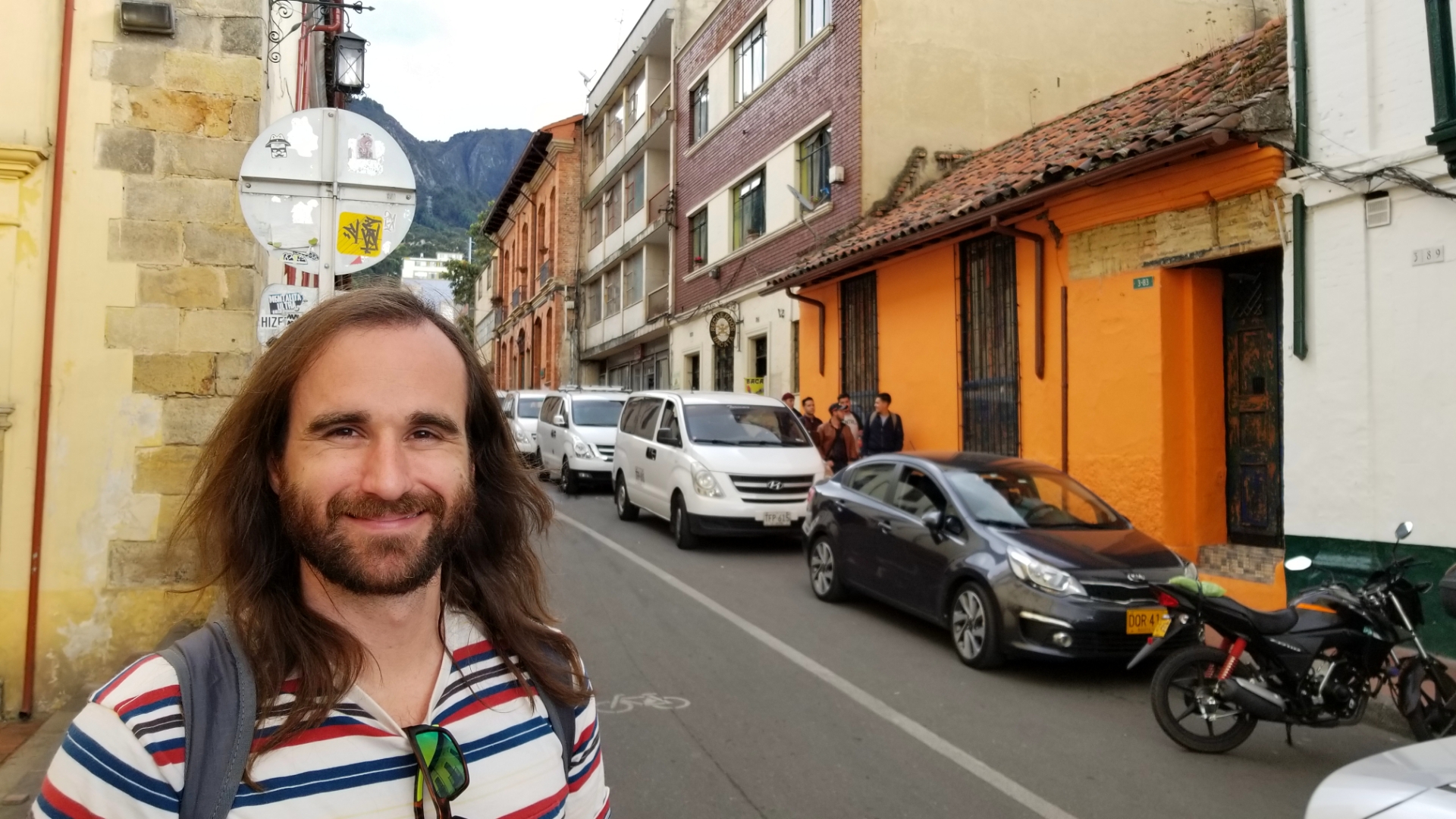 Bogota Transportation
After testing out different modes of transportation for a few days, we found that Uber was the best way to get through the city. We appreciated knowing exactly what we were spending on a ride before we got into the car, not being ripped off because of our lack of language skills, using our credit cards instead of cash, and having them pick us up right where we were located and drop us off at our next address.
But there is a major negative to using this type of transportation — Uber is technically illegal in Colombia, to protect the livelihood of their taxi drivers. At the time, the police were not really cracking down on this. But Jimmy would always sit in the front seat of our driver's car — to look like we were friends with the driver — just in case.
We found Bogota's public transportation to be a little more confusing than other countries we've visited so far, so check in later for a more thorough post on this topic!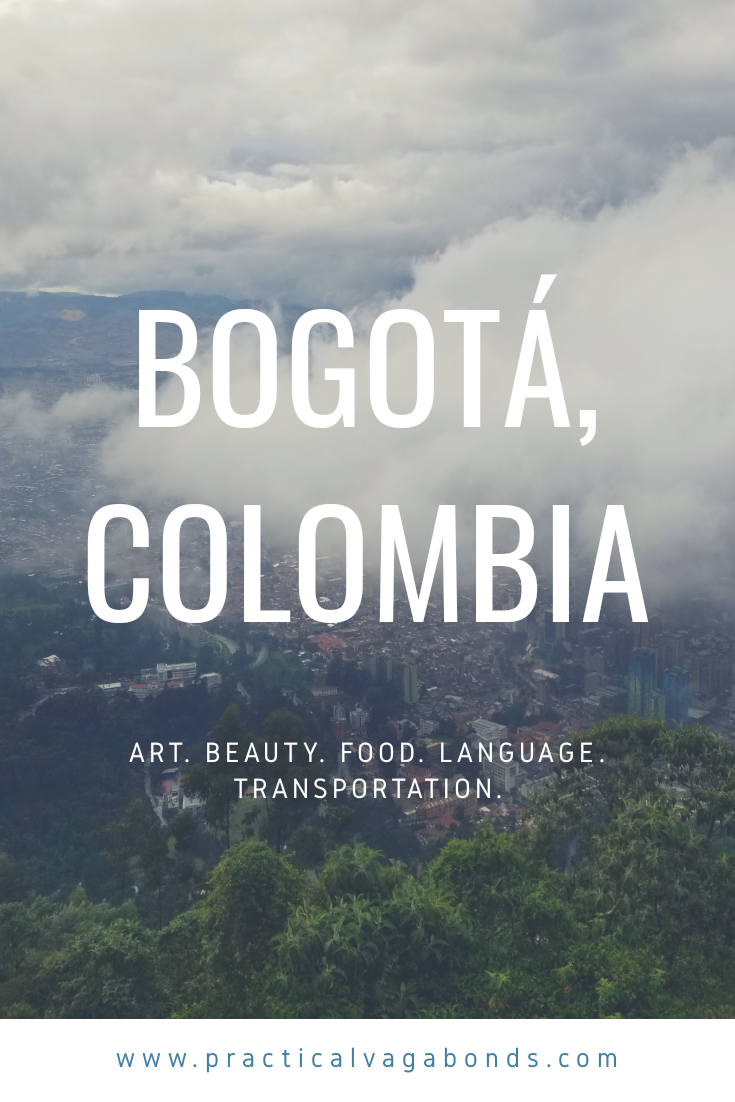 Want to get to know Bogota?
Share this on Pinterest.