Cartagena, Colombia — the beautiful, the bad, and how to visit on a backpacker's budget. Our first impression when arriving at night in Cartagena was, "Wow! What a vibrant city, we should stay longer than three nights!" We quickly dropped our packs and set out to explore the city. After checking out a few menus at nearby restaurants this sentiment quickly shifted to "Wow! What an expensive city!"
Being the PRACTICAL vagabonds, we quickly figured out how to experience Cartagena on the cheap.
Where to Stay on a Budget in Cartagena
Getsemani! Just a 3-5 minute walk from the walled city is the hip, vibrant neighborhood of Getsemani. We scored a private room with bathroom in an incredible recently remodeled Airbnb. To date, it is the nicest place we have stayed in Colombia. The neighborhood is very safe and full of fellow travelers from all over the world. Getsemani is full of affordable lodging options, many restaurants, and is the home of Plaza de Trinidad.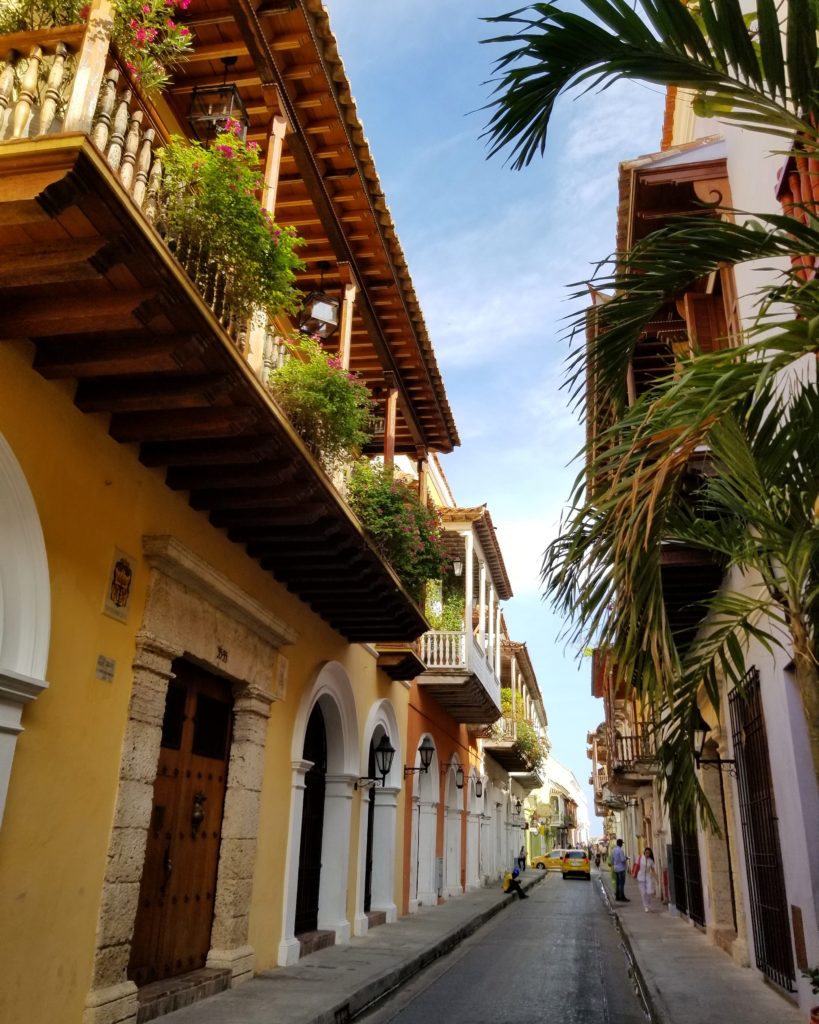 Free and Cheap Things to Do in Cartagena
Watch the Performers at Plaza de Trinidad
If you are visiting Cartagena on the weekend and are looking for free, live entertainment, be sure to spend an evening at Plaza de Trinidad in Getsemani.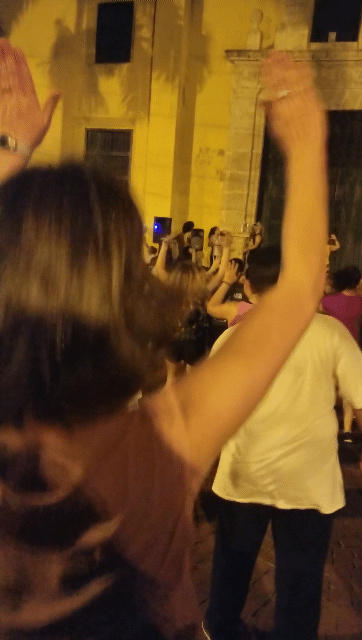 You will still find performers here during the week, but the best of the best come out on Friday, Saturday and Sunday.
Street performers that specialize in everything from drumming to salsa take turns giving you their best show.
Not feeling the current performer? Hang around for 15-30 minutes and a new act will be up. Tip the performers you love, skip the ones you don't.
Visit the Chocolate Museum in Cartagena
The Museo Del Cocoa is located next to Plaza Fernandez de Madrid in the Walled City of Cartagena. The first floor is a chocolate shop that has FREE SAMPLES of everything they sell. Our favorites were the traditional milk chocolate and their cocoa tea made from the hulls of roasted cocoa beans.
The second floor is a small, FREE MUSEUM that explains how and where they purchase their fair trade cocoa beans in Colombia. The museum also details the process of making chocolate, which we found fascinating!
PRO TIP: The Chocolate Museum is full of free samples!
It is also a great spot to cool down in the air conditioning or to use a clean bathroom (for free) in Cartagena.
Check out the Sculptures of Daily Life in Plaza San Pedro Claver
The plaza is full of interesting and quirky metal works of art that depict daily life in Cartagena.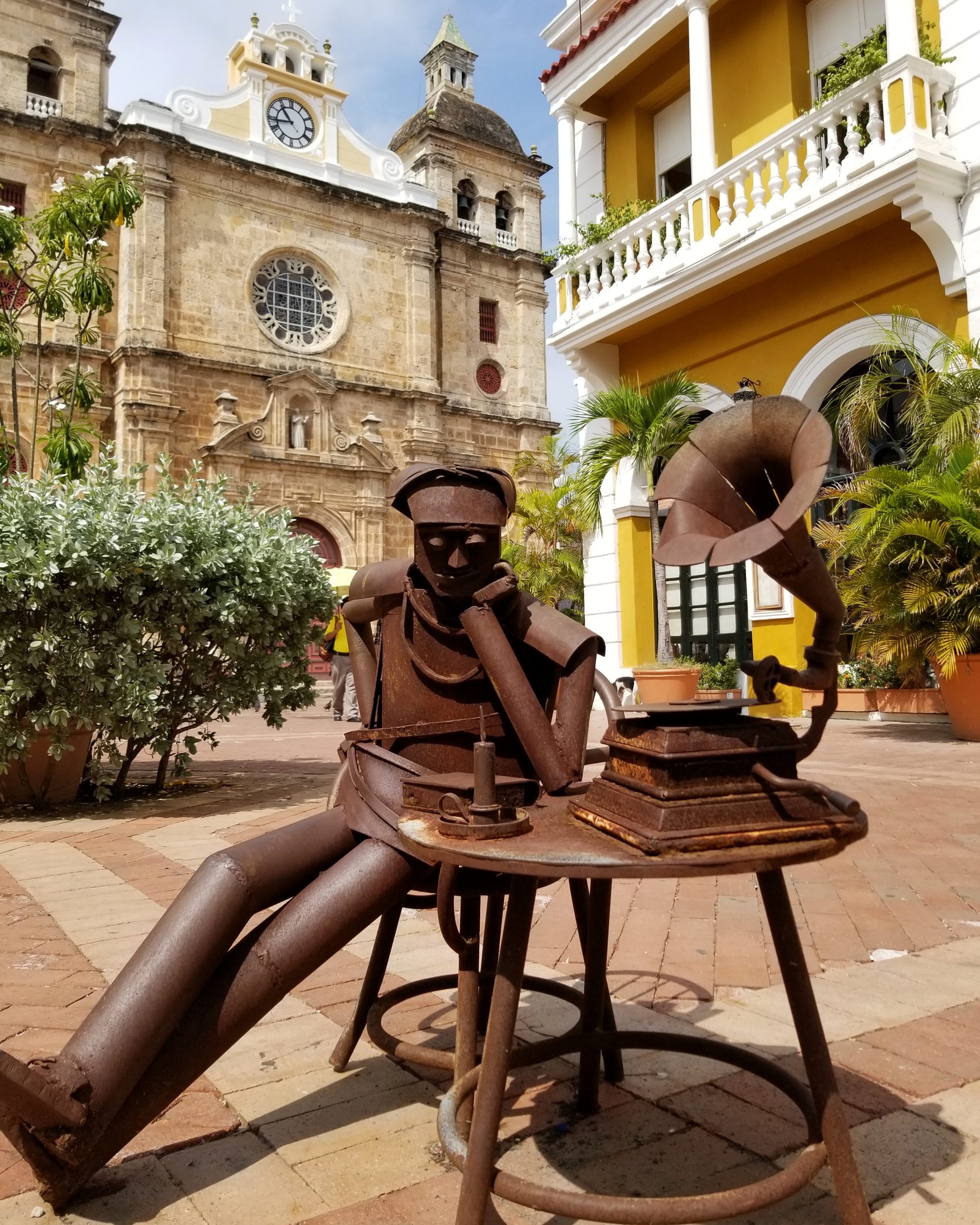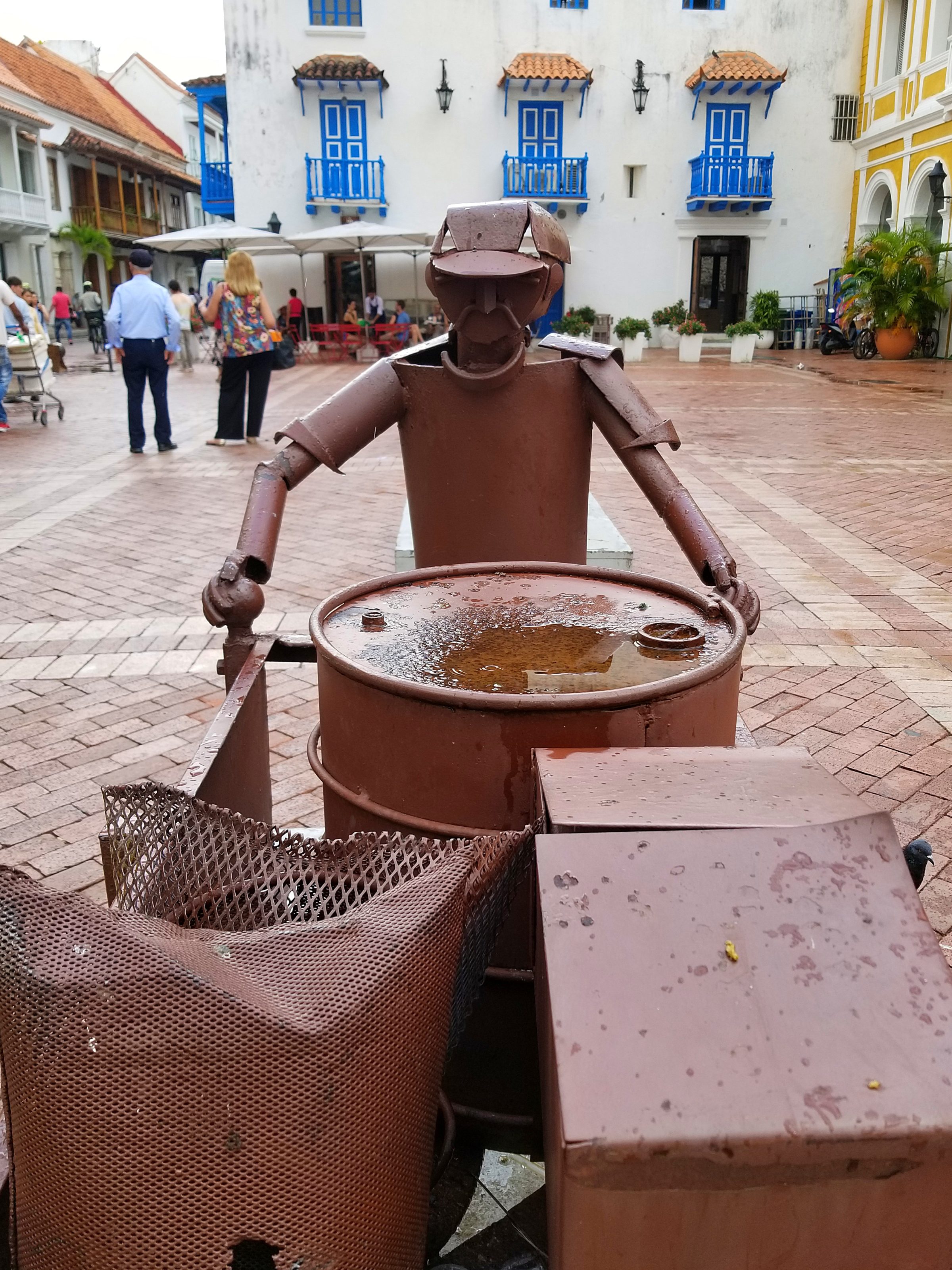 Take an Evening Stroll on Top of the Wall
The Northwest side of Cartagena buds up against the Caribbean Sea, making this a great spot for an early morning, sunset, or evening stroll. Avoid it during midday — there is not much shade. The wall has little nooks where you can sit and relax for a moment of solitude in an otherwise bustling city.
Take a Free Walking Tour around Cartagena
In Bogota, we had an AMAZING experience with a free Colombian food tour offered by Beyond Colombia and were excited to see the company had a free Cartagena history tour. In truth, we were probably too distracted by the beauty of the city and hearing about fellow travelers' experiences in Colombia to retain much of the history we learned. Regardless, it was a great way to become familiar with the layout of the city. Beyond Colombia also offers a free food tour in Cartagena.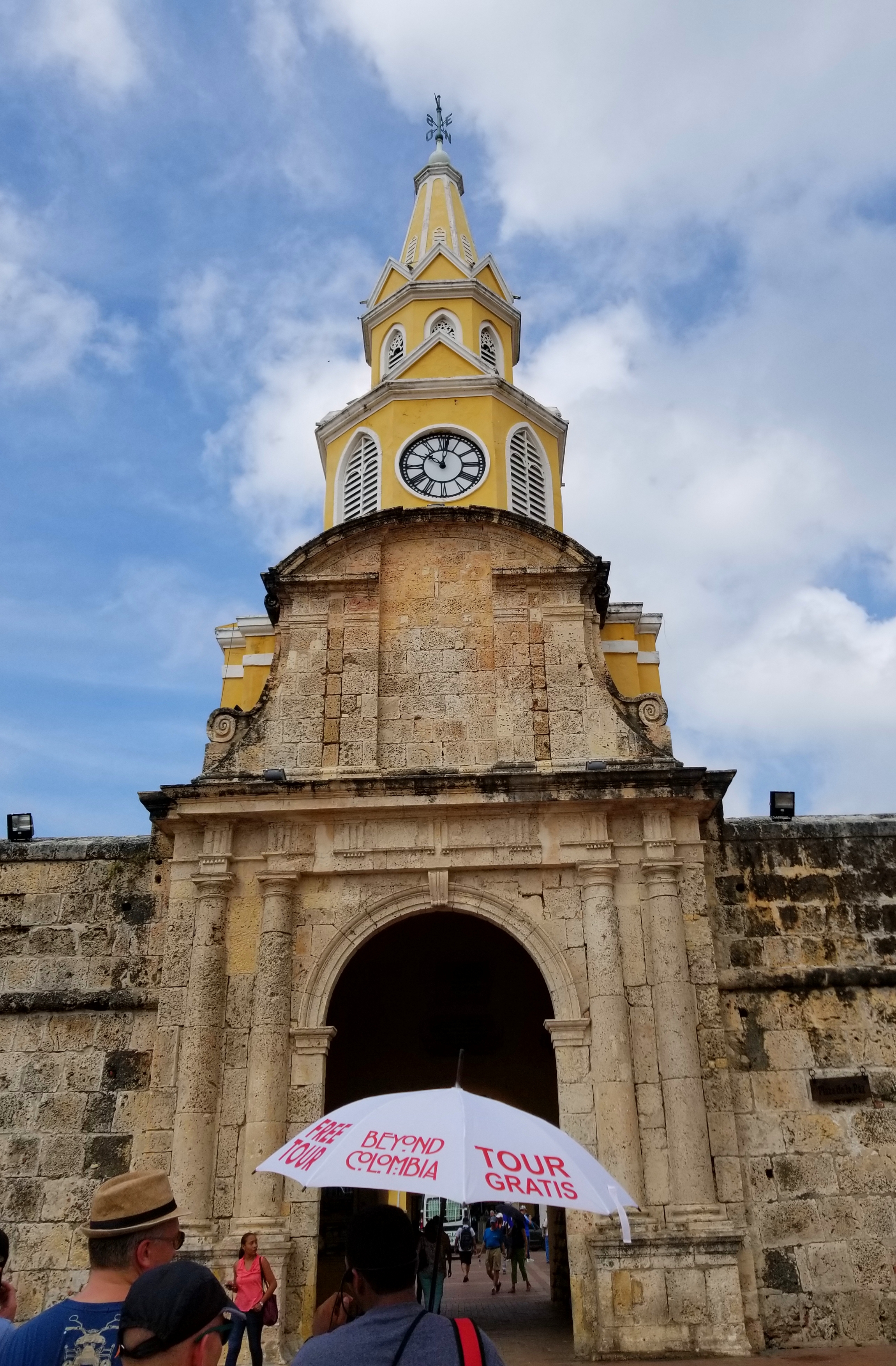 Where to Find Cheap Eats in Cartagena
Cartagena has many restaurants to choose from and most will have someone standing outside with menus in both Spanish and English beckoning you to have lunch or dinner with them. Your budget can quickly fall apart eating out for three meals a day in Cartagena, so here is our down-low dossier on finding cheap food, that is delicious, in the walled city and surrounding neighborhoods.
Breakfast — Fruit Vendors
Throughout the city, there are many fruit vendors selling whole fruits and mixed fruit bowls for a very affordable price — about $1 USD. You will also find vendors selling tinto (cheap black coffee) for 16-30 cents. If you go to a restaurant for a breakfast, be prepared to spend a lot more money for the same thing.
Lunch — Eat like a Local!
In Plaza Fernandez de Madrid, you will find women selling home-cooked meals — typically to local workers — at a very affordable price! For about $1.50 each, we would get our choice of protein (a whole fish, steak or chicken), beans or lentils, rice, a beverage, and sometimes soup.
We received many smiles and thumbs up when locals saw us joining in on these delicious home-cooked meals. These meals were so tasty we had them every day!
Dinner — Street Vendors
You can find street vendors in the city selling everything from tamales to stuffed arepas for dinner. The tamales are delicious and filling for about $1. The stuffed arepas are great but sometimes you just aren't feeling fried food. If you opt to go to a restaurant be prepared to spend $20-$25, or more if you are having drinks.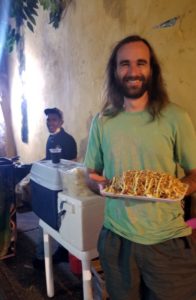 Budget-Friendly Souvenirs in Cartagena:
Cartagena has many shops to stroll in and out of, but this is not where you will find budget souvenirs. Like the food, your best bet for souvenirs on a backpackers budget will be found on the beautiful streets of Cartagena. Not all budget-friendly souvenirs are created equally, though. Shop around and barter. We ended up paying half the initial price with a little bartering.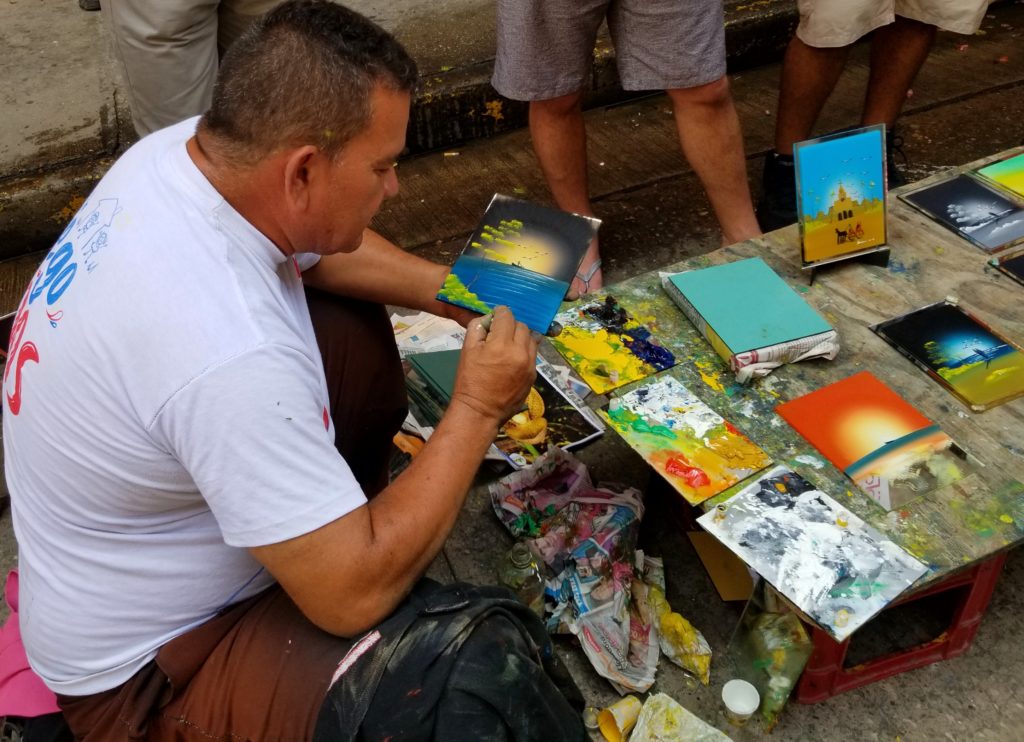 What We Disliked about Cartagena
The Walled City is saturated with vendors. Be prepared to say "no gracias" multiple times per block. On the plus side, if you are thirsty, a cold water or beer is always only a few steps away.
Maybe it was because of my long hair and beard, but A LOT of people tried to sell me drugs and it got tiring. If someone is selling cigars or cigarettes, chances are they are also selling cocaine and weed. We haven't experienced this anywhere else in Colombia, just the touristic area of Cartagena.
What We Loved about Cartagena
It is extremely clean and feels very safe! Cartagena is one of the cleanest cities we have visited in Colombia. The picturesque streets of the Walled City are an UNESCO World Heritage Site, and rightfully so. As with the other places in Colombia, we loved the people who live here. In traditional Colombian fashion, they were helpful, kind, laid back and welcoming.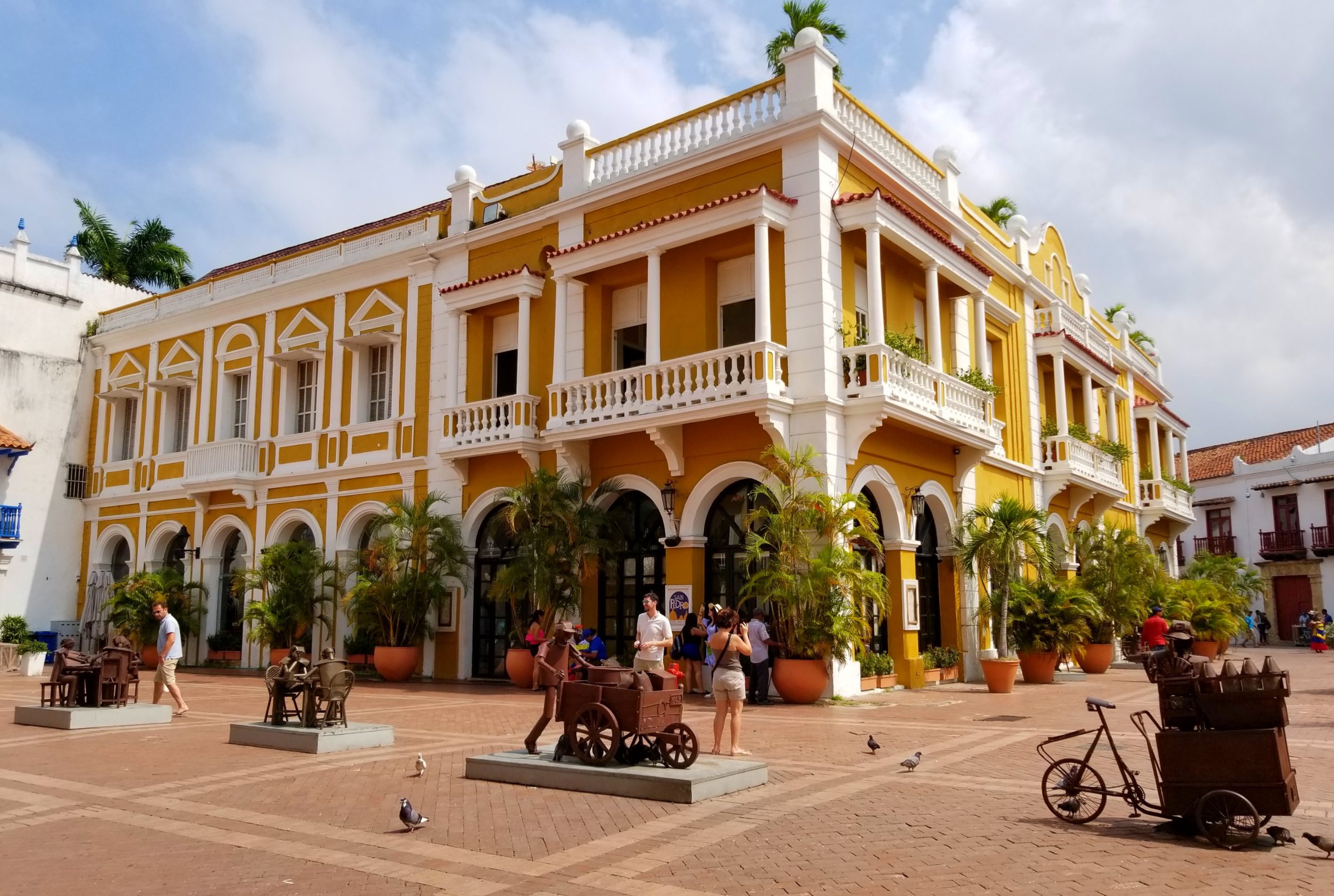 How Much Time to Spend in Cartagena
The short answer is, it depends. It depends on what you are looking for in your travel experience. We found three nights to be enough for us, and this included escaping the midday heat in our air-conditioned room. We recently came from a beach town so weren't interested in going to Cartagena's beaches. The locals we talked to recommended Playa Blanca as their favorite because there aren't as many vendors walking up and down the beach selling crafts. A short boat trip away from Cartagena there are islands that are popular with tourists if this interests you.
If you are on a shorter trip where you are traveling around the country at a quick pace, two nights in Cartagena should be sufficient.
If you do not have any budget constraints, longer in Cartagena might be better for you. There are plenty of great restaurants and places to have a cocktail.
Don't be discouraged by how expensive Cartagena seems compared to rest of Colombia. You can — and should — visit Cartagena on a backpacker's budget, or any budget for that matter!

Planning to visit Cartagena, Colombia?
Pin this for where to stay, eat and play for cheap or free.