Why do you like to travel? While we enjoy traveling to witness beauty around our planet, we also really enjoy the learning aspect of travel. We find it fascinating that each place and culture has so many differences and similarities to our own home in the USA, especially the food scene! So when Jimmy found a free tour featuring Colombian food, we knew this was going to be the perfect way to dive right into Colombian culture on our first day.
Thanks to our incredible tour guide, Andres, from Beyond Colombia for introducing us to Colombian food, history, and culture. You can learn more about this and other tours on their website: http://www.beyondcolombia.com/.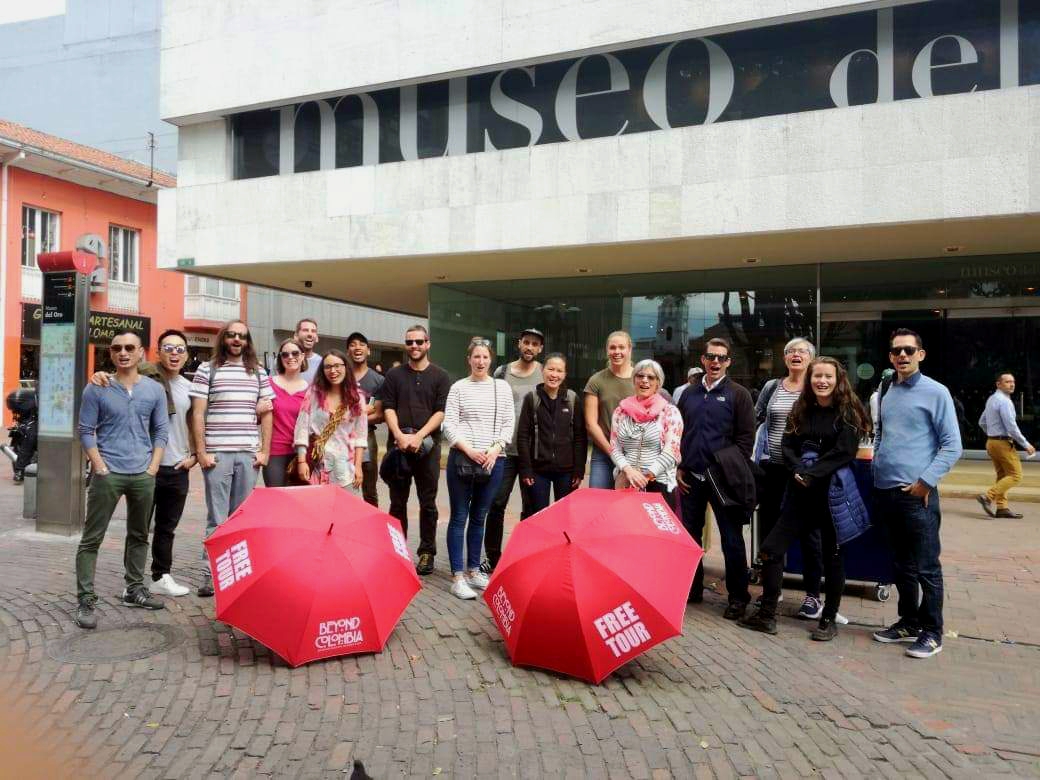 Empanada
Our food tour started with a favorite many of us already know and love — empanadas! In Colombia, they use cornmeal dough (yum!) filled with rice and a mix of meats including chicken, beef or pork. Then they fry the empanada and serve it with sauces. The place we went to for empanadas had several sauces — some spicy, some sweet — and we learned the proper way to eat them. After biting one of the corners off your empanada, you fill the interior with the sauce of your choice.
Here's a picture of Jimmy after we already ate them because we were far too hungry to stop and take pictures before (oops!).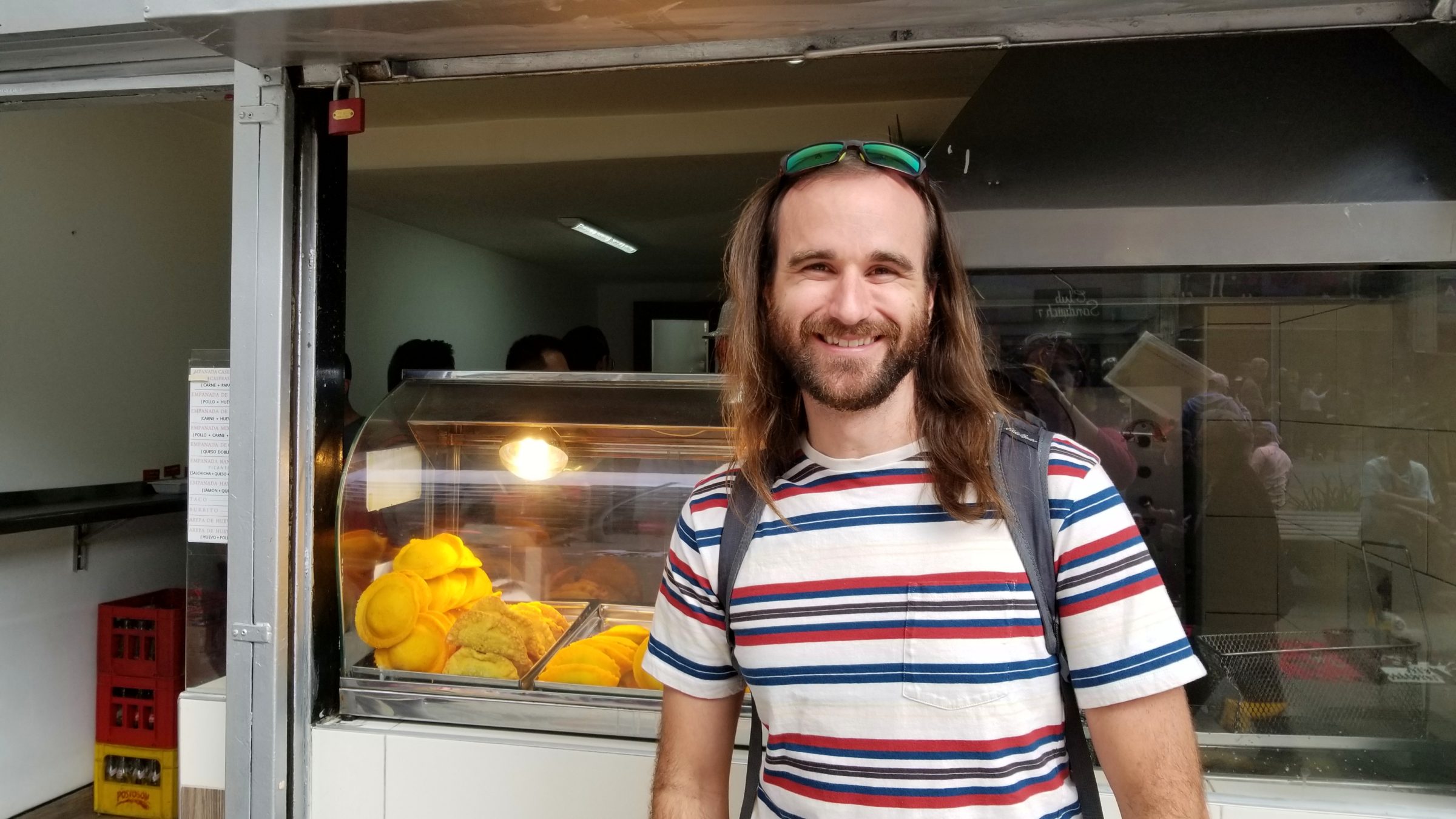 Pandebono and Avena
Next we tried our first pandebono, which is a cheese roll with a soft interior, crispy exterior, and can be filled with guava. While it can be served with coffee or Colombia's favorite hot chocolate, we had ours with a cup of avena, which is a sweetened condensed milk and oat drink. Yum!
Fried Ants
Did you know that the ants they fry here are a specific type of large ant, called the Princess Ant? They only leave their colonies to create new ones once per year, on a sunny day after a lot of rain. This is because the dirt is softer and it's easier for them to push through their tiny tunnels onto the outside. Once outside the safety of their colonies, they are captured and saved for frying.
As we walked past a fried ant vendor, we bought a small package of them to share across the group. They tasted like extra-cooked popcorn, and to be honest, they were pretty good.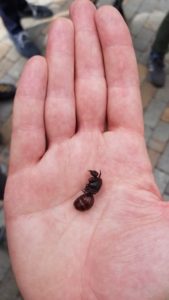 Ajiaco Soup
I love a good, hearty soup! Ajiaco soup is another Colombian classic that we really enjoyed. Made with chicken stock, corn, and potatoes, you add pieces of chicken, capers and bit of cream to your liking to complete your soup. It was SO GOOD.
Another fun thing about this soup was our experience … we ate outside a private room where a men's acapella group was dining, drinking, and singing Disney songs like "Let It Go" in Spanish. It was beautiful and entertaining at the same time.
Oblea
You know how I said that Colombians like cheese on everything, including desserts? We first learned the extent of this when we stopped by an oblea cart. Obleas consist of two thin, sweet wafers with your choice of toppings on the interior.
I was really excited by the filling options at this cart: caramel, chocolate chips, nuts, sprinkles, strawberry filling, shredded coconut, and more! Just kidding — they didn't have coconut. It was actually shredded cheese.
Instead of adding the fillings I knew I would like, I had my oblea in Bogota's more traditional way: with caramel, nuts, and the shredded cheese. It wasn't bad, but it also wasn't caramel and strawberry with nuts and chocolate chips. Oh well!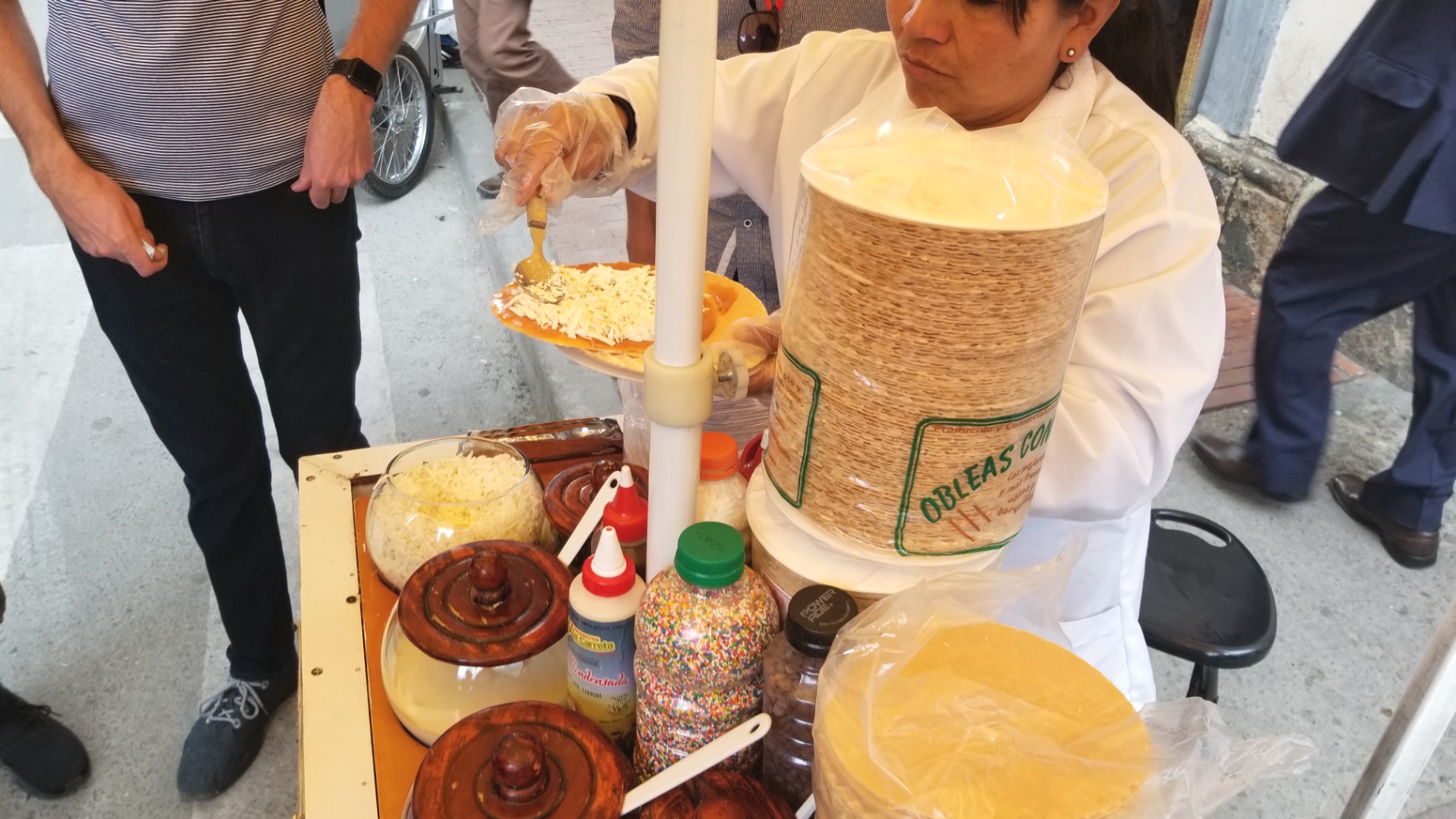 Colombian Coffee
By this time, we were pretty full and even a little tired. Colombian coffee to the rescue!
Colombia is well-known for their coffee exports. But did you know that almost all of its best coffee is exported? It's really hard to find a good cup of joe in the country since they only keep the lowest-quality for themselves.
Hence our excitement when we were taken to a place with the highest-quality Colombian coffee. They made it two ways so we could taste the difference in preparation: with a French press and with a syphon coffee maker. Both were delicious, although we preferred the French press coffee — it was richer and more flavorful.
During this time, we also had a discussion about Colombia's past, the image it's given them, and how Colombia is changing today. Our guide grew up in Bogota, and he gave us fascinating insight into how dangerous Colombia used to be and how it's safer now than ever. This increased safety has expanded tourism to more areas around the country, and tourism is now their second largest economic driver — second after their beloved coffee.
Chigüiro, Mamona & Arepa
For our next stop, we entered a restaurant with juicy meats being grilled by the front window. Our mouths watered as we tasted these new delicacies, unsure of what they were. Once we were done, we found out that we had just eaten chigüiro (capybara) and mamona (veal from a very young cow). We also had arepas, which are made from corn flour and can be used to make sandwiches or be served with avocados, cheese, and more. Yum!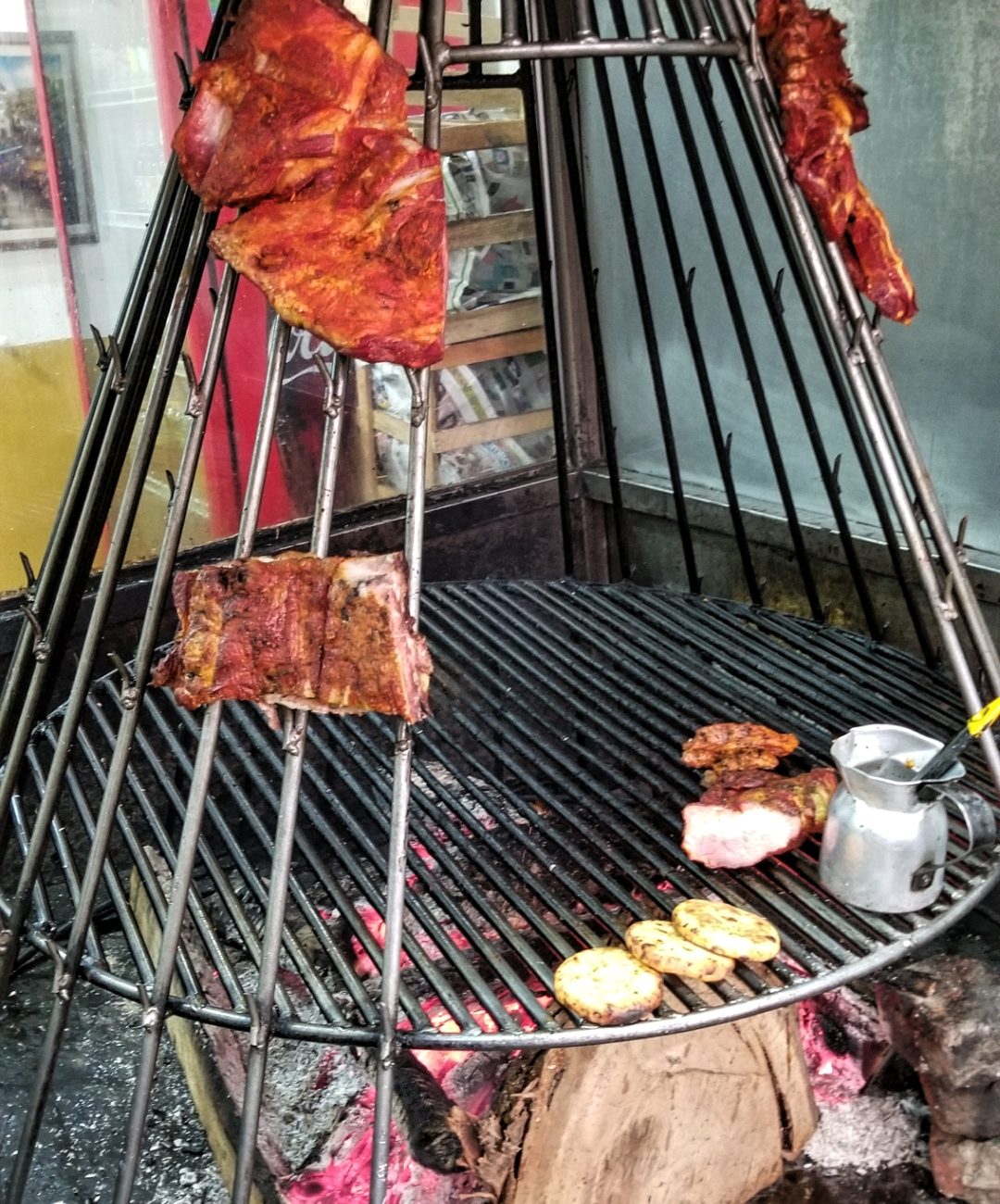 Hot Chocolate and Cheese?!?
Say what? Colombians love hot chocolate, even though they do not have winter. Like most of their favorite foods, this classic drink is served with slices of cheese on the side. This cheese is added to your cup of hot chocolate, similarly to how we add marshmallows.
The hot chocolate itself was really good, so we decided to give the cheese a try. It was a no-go for us. Perhaps we added a little too much cheese to our hot chocolate, but it created a thin layer of grease and subdued the chocolate taste. To me, it took the joy out the sweet, chocolatey goodness that is hot chocolate, but we were glad to try it the Colombian way!
Aguardiente
Aguardiente is the Spanish translation for "fire water" and is a type of Colombian brandy. It is made with water, alcohol, sugar, and anise and has a lower-than-average alcohol content, so it's more of a spirit. Make sure you cheers to your health before you drink it … Salud!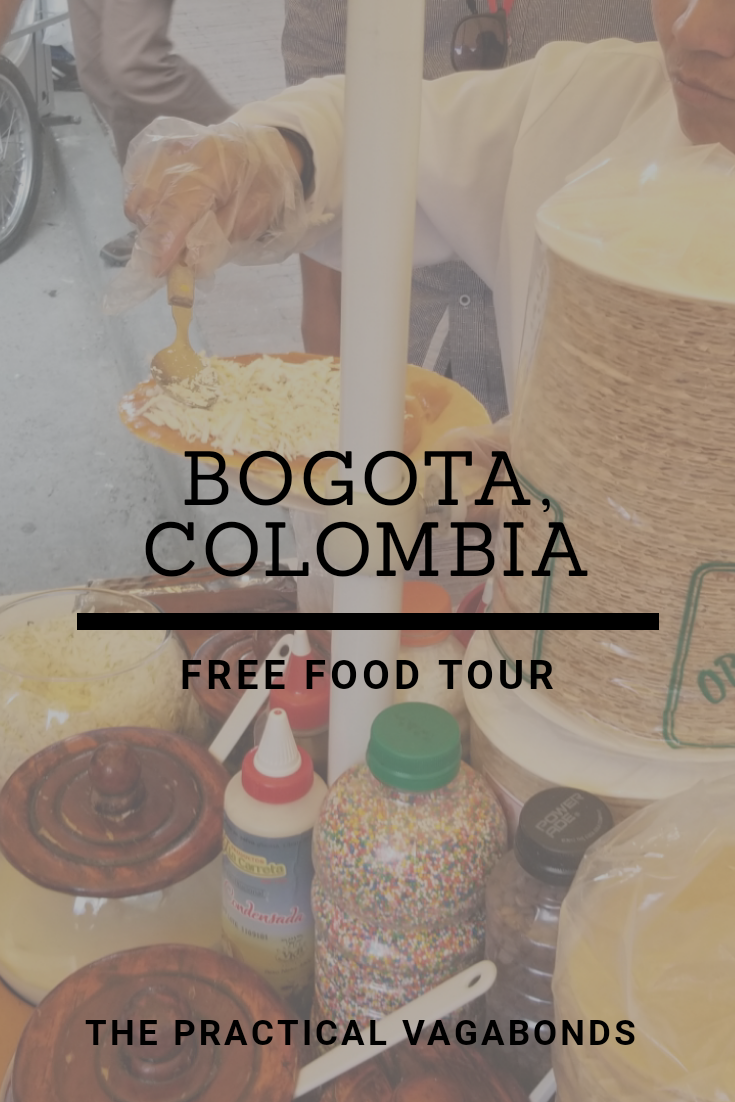 Want to enjoy the Bogota food scene?
Pin this to get a taste of Colombia!