With 2.2 million acres to explore and five entrances from three different states, Yellowstone National Park can be overwhelming. Our advice — Don't do everything, do the best of everything. Here are our Top 10 Things to Do in Yellowstone National Park and what you need to know about them before you go!
Geysers and so much more! Jimmy and Sarah explore Yellowstone National Park. 
Old Faithful
When we visited rangers predicted the eruption time to the minute, reaffirming how Old Faithful got its name! Don't plan on arriving 15 minutes early and plan on seeing her blow. It will take you at least that long to find a parking spot plus another 10 to walk to the geyser. We recommend planning your Old Faithful visit around....
Grand Geyser
Grand Geyser is the world's tallest predictable geyser. It erupts every 6 or so hours, simultaneously with two other geysers and is SPECTACULAR. Check at a visitors center or call Yellowstone's geyser line 307-344-2751 (option 2)  for predicted eruption times. With only being a ten minute walk from Old Faithful, it was a surprise that we were two of ten people there. We also caught our first listen in on part of a….
Ranger Guided Walking Tour
You will learn all kinds of interesting facts about the parks history and geothermal features! Did you know that in the 1920s you used to be able to catch a fish and poach it in an arsenic filled hot spring before feasting on it?
Neither did we! Nowadays they just use social media to promote the park. If you have questions they have answers. Ranger Guided Walking Tours are FREE and daily times for different park features are listed in the park newspaper they provide you on entry.
Grand Prismatic
Aptly named, it was grand and indeed prismatic! Be on the lookout for bison hoof prints in the thermophiles and hold onto your hats! We saw over a dozen or so hats, several scarves and a five dollar bill that the wind blew into areas unsafe to walk through and retrieve.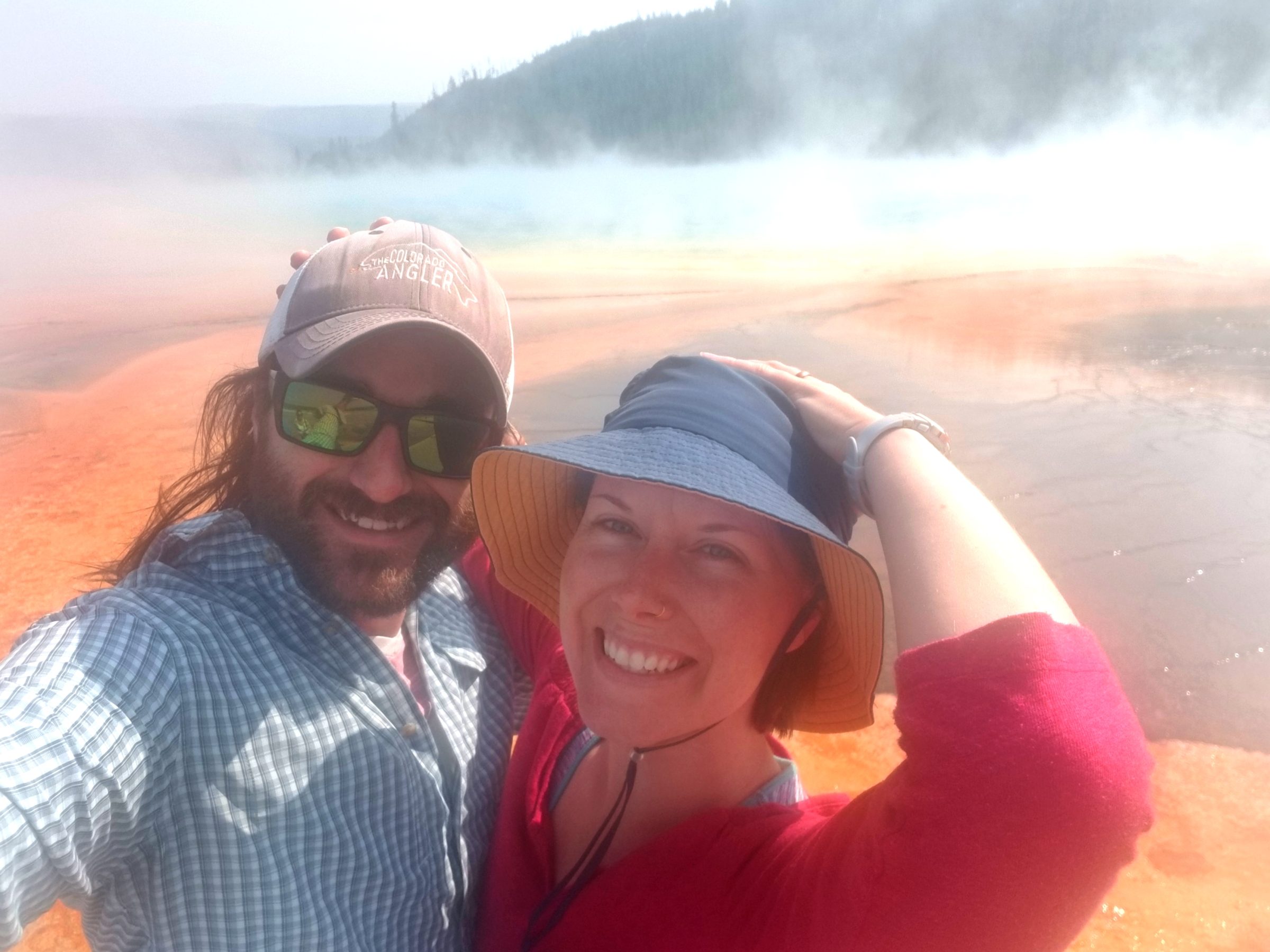 FUN FACT!
Yellowstone employs someone full time whose job it is to use a large fishing pole like contraption to expertly cast and retrieve aforementioned items. (Thank you Ranger Guided Walking Tour!)
Lamar Valley
Take a cruise down the Lamar Valley! You will almost certainly get caught in a bison jam. Be patient — it is awesome and certainly beats the type of rush hour you are used to.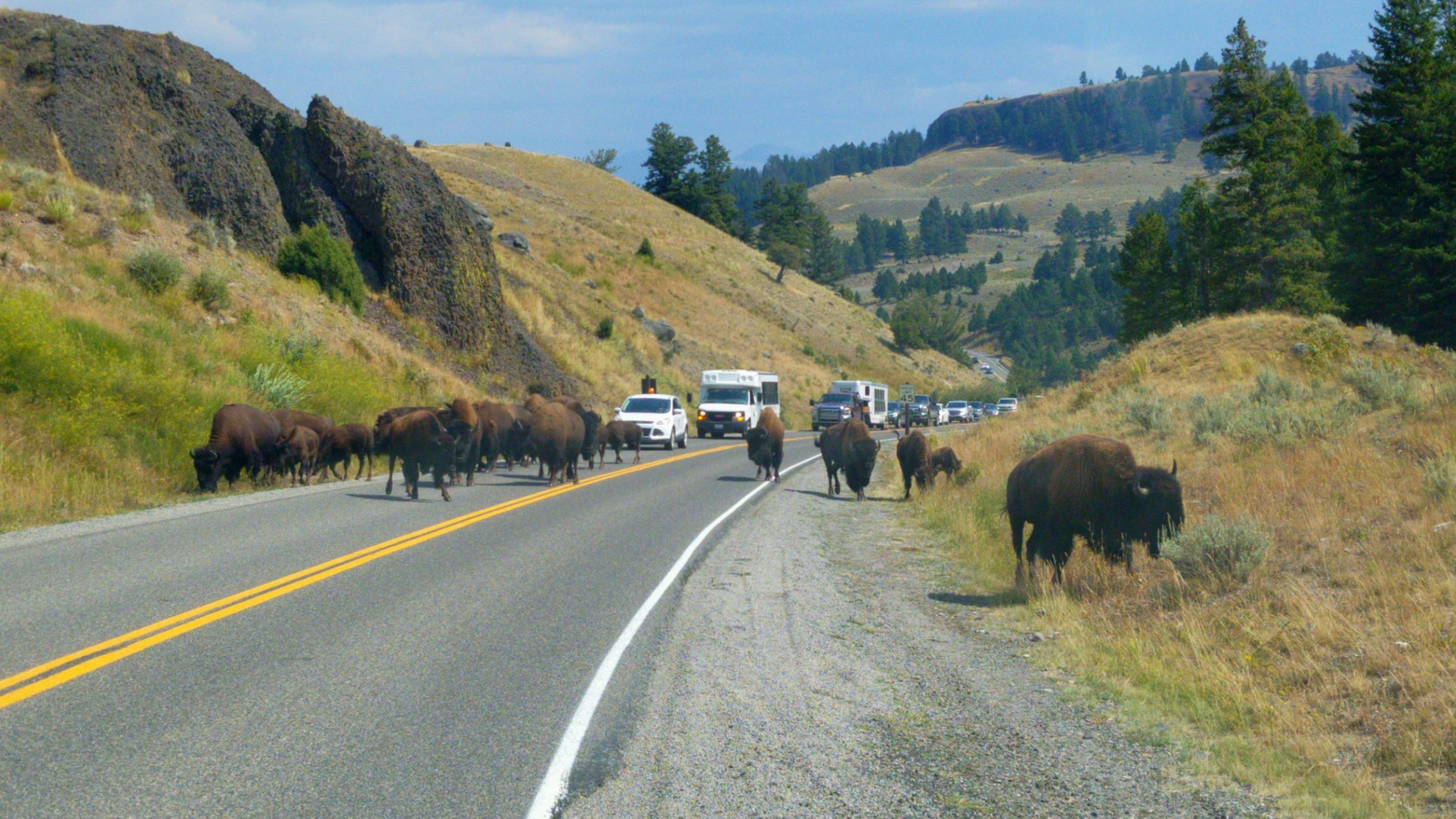 The Lamar Valley is home to the majority of Yellowstone's wolves which can be spotted in the early morning and evening, usually near a bedded-down bison herd. We didn't have any luck seeing them but you might! This drive also leads to some of the parks most pristine…
Fishing
Grab your license at any visitor center. Montana and Wyoming licenses are no good in Yellowstone. A 3-day license cost you $18. Pay attention to the special regulations in the pamphlet provided with your license — they vary by location and species of fish.  
Mammoth Hot Springs
A slow-flowing spring deposits minerals to form silica and thermophile-filled terraces. Move this one up higher on your list if you go during the spring or after a fair amount of rain. We went near the end of summer and there was very little water in the feature.
Camping
Yellowstone is the size of Rhode Island — you will not want to drive into and out of the park everyday. Plus, not all campgrounds are created equally! We recommend reserving a better site ahead of time during their busy season.
If it's not during their busiest season you may be able to book a site at any of the Yellowstone managed campgrounds by visiting a camper registration area upon arrival. Our favorite out of the three we stayed was Canyon Village — it had lots of trees and more spacious sites.  
Black Sand Basin
Sunset Lake in Black Sand Basin is a smaller version of Grand Prismatic, without the crowd. The short boardwalk also features geysers, Turquoise Pool and Emerald Pool (which is no longer emerald from visitors in the early days throwing coins into it). We HIGHLY recommend the Ranger guided tour for Black Sand Basin.
Grand Canyon of the Yellowstone
The Yellowstone River carved this marvelous canyon over millions of years. Artist Point provides a breathtaking vantage of the lower falls and canyon walls. Again, hold on to your hat!
We hope you found our list of the top 10 things to do in Yellowstone useful! Check out our Itinerary Planning Post for more on Yellowstone!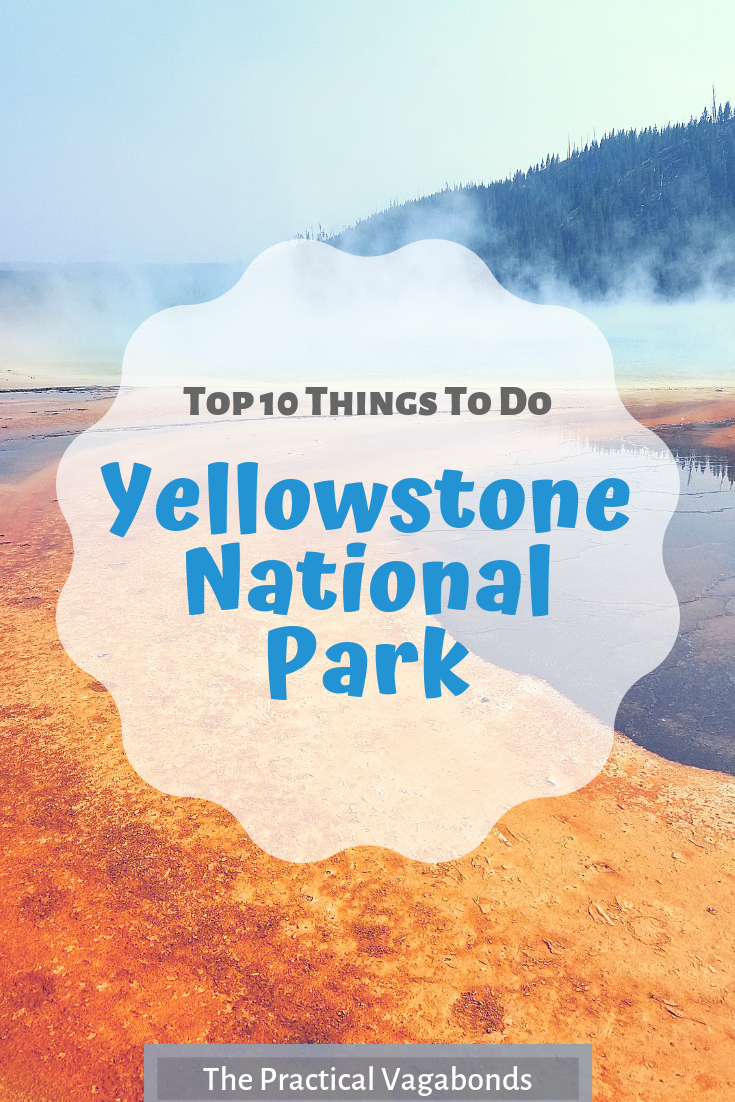 Don't want to forget the top 10 things to do in Yellowstone National Park?
Pin this for your future travels!