Thousands of years ago — below the earth's crust — turmoil, unrest, and massive pressure were building in what is now modern-day Southern Idaho. Kaboom! Lava exploded from the depths of Mordor... or maybe somewhere else. I have trouble remembering everything I read while visiting Craters of the Moon National Monument.
What I can tell you for certain is that once the lava cooled, the land was left frosted in black rock creating an otherworldly landscape found nowhere else in North America! Take a break from earth while you check out these top reasons to visit Craters of the Moon.
Sarah cuts a rug at Craters of the Moon National Monument. 
You'll learn a rock load about geology!
Though small, the visitor center is chalk-full of information about different types of lava formations found throughout Craters of the Moon. In no time, you'll be pointing out Cinders, Block Lava, Pahoehoe, A'a and Bread Bombs.
Does some of this sound like a different language? It is! Many terms for lava flows and formations are Hawaiian words.
Pahoehoe (pa-hoy-hoy) comes from the Hawaiian word for "ropy". As the surface of the lava cools and forms a crust, the hot lava flowing underneath pulls the top layer into ropes. Craters of the Moon is rife with these ropy ribbons.   
A'a (Ah-ah) is Hawaiian for "hard on the feet". These lava flows have a rough and jagged surface that will chew your boots up and spit them back out.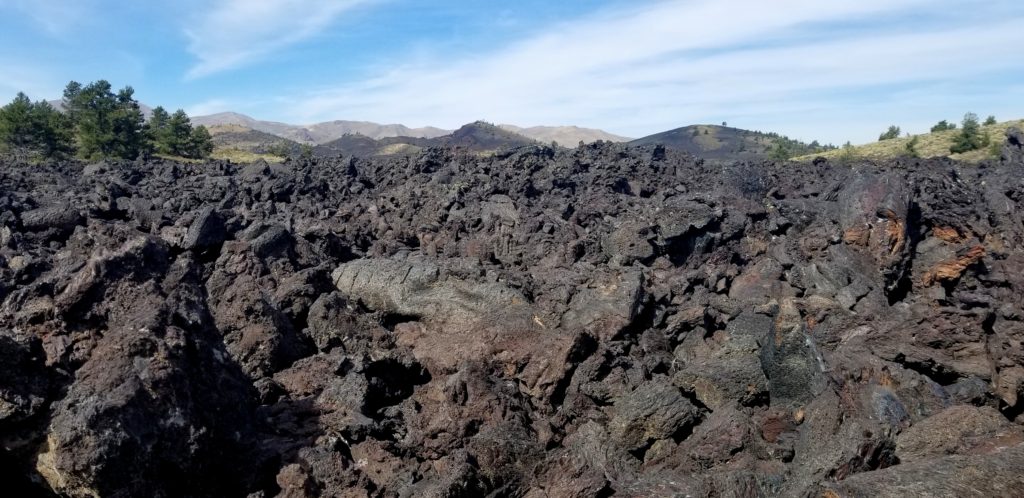 You'll venture into lava tube caves.
How many people do you know that have been inside a lava cave? Now you can say at least two!  We went into all five lava caves throughout Craters of the Moon. You'll need to obtain a free permit at the visitors center prior to entering the caves. Spoiler — it is issued in the form of a bat stamp. The first four caves are found along the Caves Trail. The fifth, Buffalo Cave, is accessed via the Broken Loop Top Trail.  
Indian Tunnel
The parks service installed a metal stairway making this the easy to access out of all the caves. It is also the only cave in the park you can explore without a headlamp or flashlight. Multiple collapses in the tunnel's 30-foot high ceilings now let in ample light. The 800-foot tunnel requires scrambling up and over one of the rock piles left by a collapse. This is our top pick in Craters of the Moon!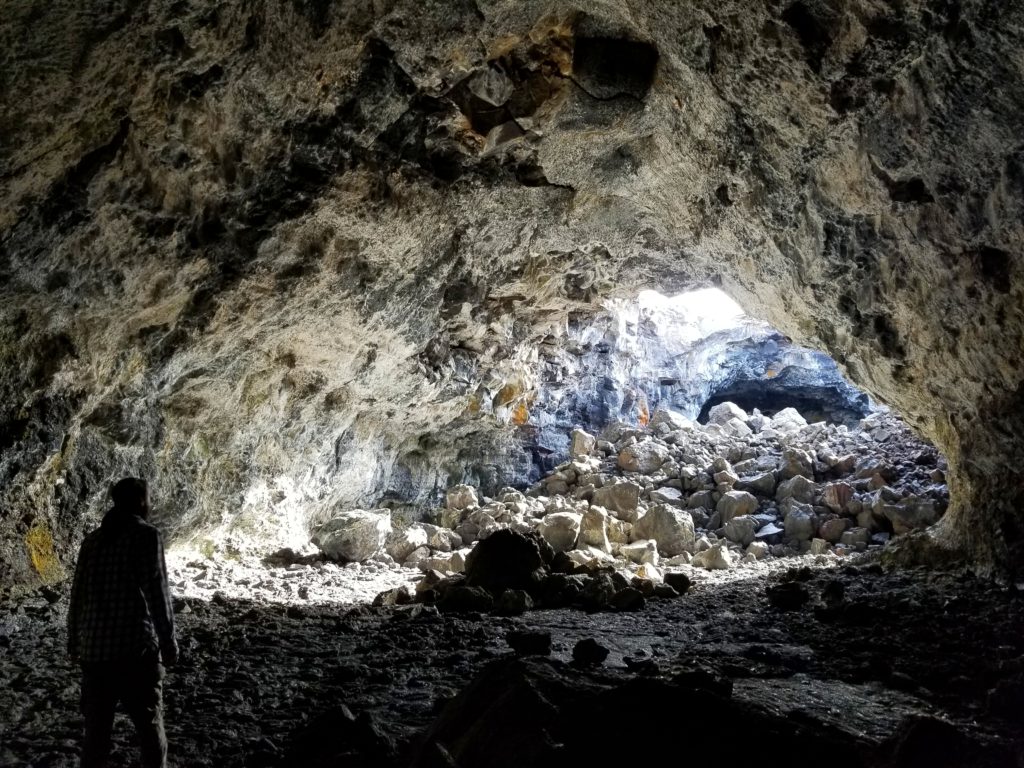 Boy Scout Cave
There are two sides to Boy Scout Cave, both of which have separate entrances and are a squeeze to enter. Entering to the left is easier and has higher ceilings once inside. Be careful — Boy Scout Cave retains ice all year long!
Entering to the right, you go down a rabbit hole. Remember that tight squeeze in our video at the top of the page? This side of the cave is difficult, complex, and will remind you of your age. One-foot high ceilings in the middle segment require an army crawl. You will need a headlamp for both sides of the cave.
Beauty Cave
Beauty Cave is easy to enter and walk through with its high ceilings and large opening. The cave is closed off part-way through due to unstable ceilings.
Dew Drop Cave
If you are pressed for time, there is no need to walk down into Dew Drop Cave. Just about everything inside the cave can be seen from the walkway.
Buffalo Cave
Buffalo Cave is accessed via the Broken Top Loop Trail (1.8 miles). We recommend doing the loop because it provides an opportunity to see A'a flows and Bread Bombs.  If you want to go straight to the cave, start the trail counter-clockwise.
You can hike up Inferno Cone
Hiking up Inferno Cone is only one-mile round trip, but the path takes you straight up the cone. When you make it to the top, you'll be rewarded with 360-degree views of the park. Once there, take a moment to think about how gaseous-filled lava was fountaining out of the ground right where your feet stand ... as recently as 2000 years ago!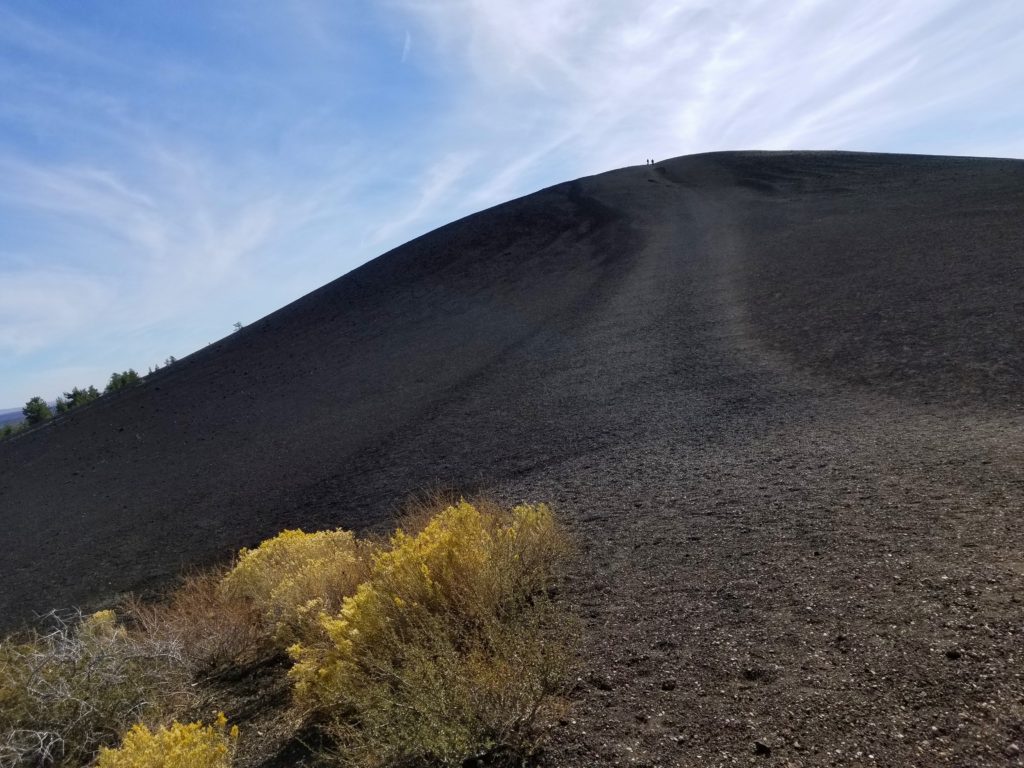 Fun Fact: NASA sent astronauts to Craters of the Moon to prepare for ... the moon. NASA also currently conducts simulations at Craters of the Moon in preparation for sending astronauts to Mars.
You'll stroll through Spatter Cones.
Spatter Cones are the remnants of miniature volcanoes that formed during the last gasp of an eruption. Craters of the Moon has plenty of them. There is a short accessible trail around several of the cones and it is certainly worth the stop.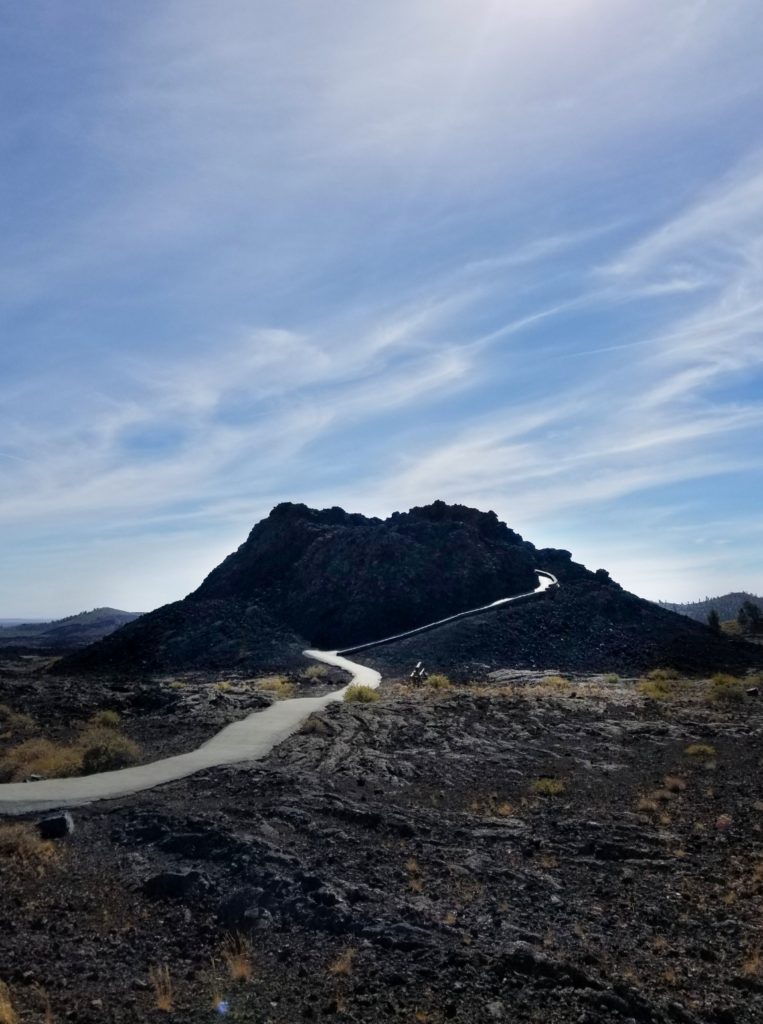 Camping under the dark sky at Craters of the Moon 
Craters of the Moon is an international dark sky park! But what does that mean? There is absolutely minimal light pollution.
We watched a magnificent harvest moon rise over the lava fields. When the moon is not illuminating the sky, the milky way is clearly visible. Camping at Craters of the Moon is on a first-come, first-served basis. Get there early if you want a spot in the campground. If you don't luck out, there is an excellent KOA 18 miles away in Arco. Excellent, as in ice cream social every evening for a dollar per scoop and free waffles for breakfast.
How to Prepare for Craters of the Moon National Monument:
Layer Up
There is little to no shade in all of Craters of the Moon. We recommend SPF shirts and keeping a wide-brimmed hat with you. The top of Inferno Cone can be windy, the trails are without respite from the sun, and the caves are cool and damp. If you are going to be crawling through Boy Scout Cave, you will also want pants — and maybe knee pads if you're feeling old like me.
Bring A Refillable Water Bottle
None of the scenic stops or trailheads have water available. There is a bottle-fill station at the visitor center. We recommend getting a Hydroflask. They will easily keep your beverage cold or hot for more than a day, making them great for all four seasons.
Headlamps Are a Must
Exploring the lava caves are the highlight of visiting Craters of the Moon, and to do so, you need a headlamp or flashlight. Headlamps are preferable because squeezing through an opening and crawling in caves is much easier with both hands.
Sturdy Shoes
Remember that A'a Lava we talked about above? Also, the caves are dark and damp, making them prime for stubbing toes in open-toe footwear. Here are my boots that are tried, tested and taking us around the world.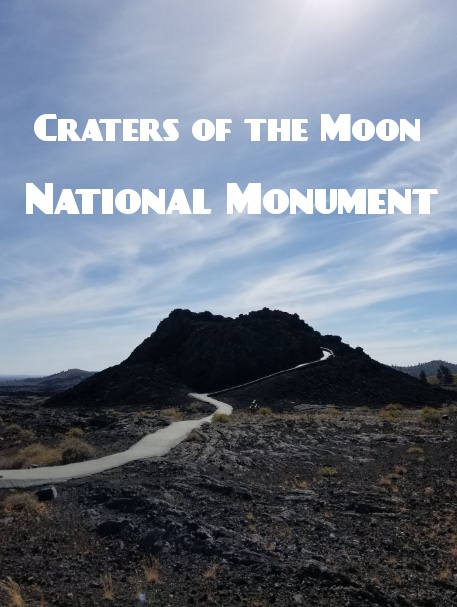 Need a break from Earth?
Pin this for an out-of-this-world experience.