Cuyabeno Wildlife Reserve, located at the foot of the Andes in Ecuador's Amazon, is a place you will dream about long after you leave. When planning our visit to Cuyabeno Ecuador we were not sure what to expect. Me: "What will the guided tour activities be like?" Sarah: "Will there be snacks?"
When visiting Cuyabeno, it is required to use a licensed naturalist guide for all activities. Most everyone stays at an eco-lodge and some travelers coordinate with guides to camp in the thick of Ecuador's Amazon. Regardless of which lodge you stay at or where you camp, the activities will be the same.
Five days in Cuyabeno Wildlife Reserve in Ecuador's Amazon
Activities in Ecuador's Amazon:
Motorized Canoe Rides
We began our Cuyabeno adventure with a motorized canoe ride to our lodge which lasted about two hours. However, it can be a short as 45 minutes depending on how much wildlife you see and stop for along the way. On our first boat ride, we spotted four different types of monkeys, countless birds, and an anaconda!
Throughout your trip, motorized canoes take you between most of your activities so there are plenty of opportunities to spot wildlife — including pink river dolphins.
Swimming in Lake Cuyabeno
After a long day of exploring the Amazon we watched the sunset and then took a dip in Lake Cuyabeno — or at least I took a dip in Lake Cuyabeno. The canoe tasked with carrying everyone's luggage had a bit of trouble and didn't arrive until much later the same day. The lack of bathing suits discouraged everyone else from swimming — not me. There were plenty of other opportunities to swim throughout the trip.
We spotted numerous caimans near our swimming holes — so maybe try not to think about that while taking a dip.
Day Hikes and Night Walks in Ecuador's Amazon
The day hiking through Cuyabeno was our favorite daytime activity. Our knowledgeable guide showed us which flora is consumed, used as building materials, and has medicinal or spiritual uses, including the plants used to make Ayahuasca — a traditional indigenous psychedelic beverage. The lodges provide rubber boots and rain ponchos for this and other excursions because, to no one's surprise, it rains a lot in the rain forest.  
During the night walk, we spotted plenty of creepy crawly insects like tarantulas and scorpion spiders.
Night Canoe Trip
From our canoe, we used flashlights to spot the gleam of crocodile's eyes — they turn red in the bright light. Some of the crocodiles were shy and disappeared under the water pretty quickly, while some of the big ones … not so much.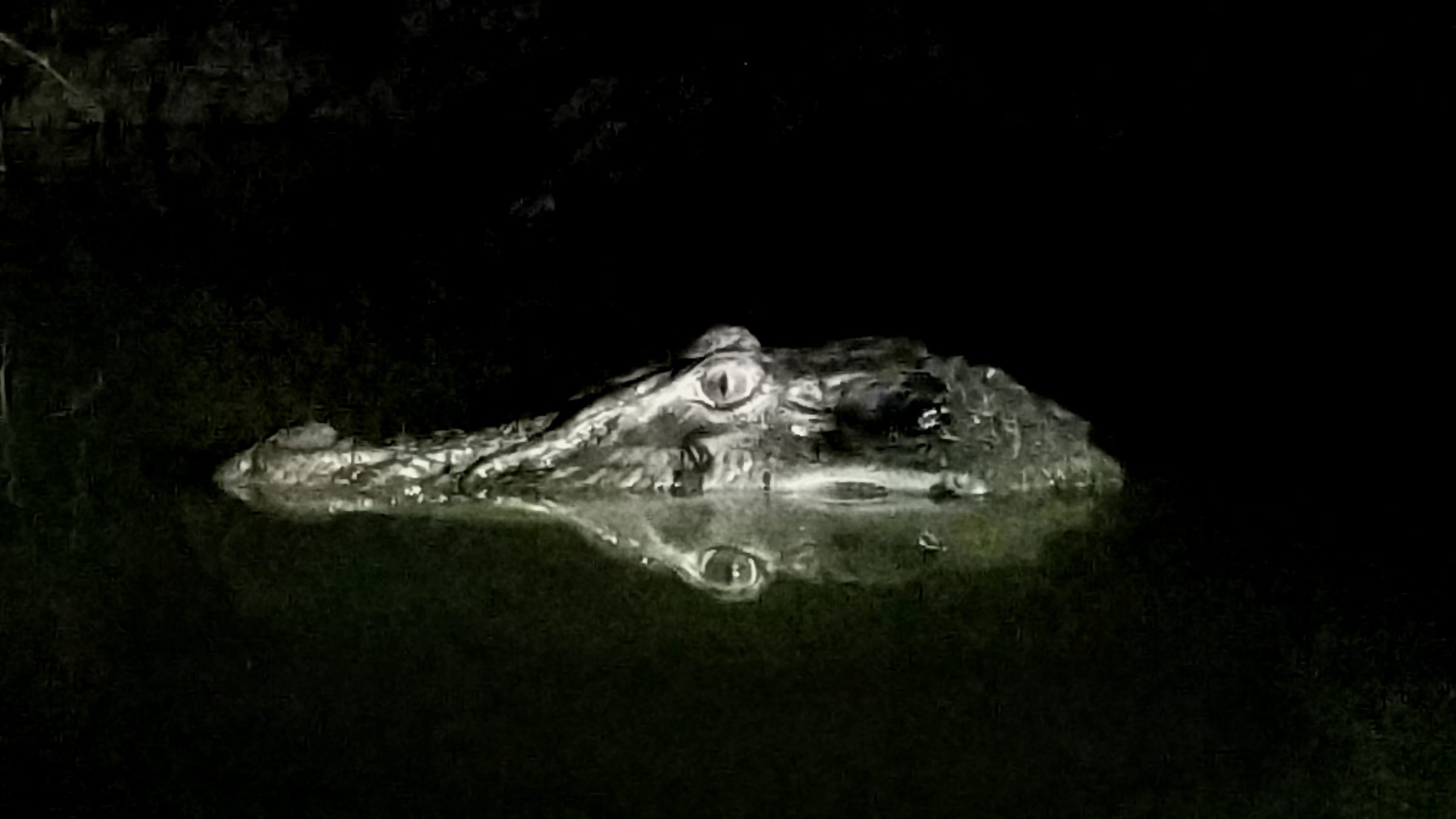 A Day with the Indigenous Community and Visit with the Shaman
We spent the afternoon with a woman learning how to make cassava, a bread-like tortilla made from only the yucca root. We harvested wild yucca, grated, dried, pressed and cooked the cassava over an open fire. Amazingly, we didn't need to include any additional ingredients to create this tasty wafer-like bread.
After lunch, we met with a local Shaman who shared with us the process of becoming a Shaman — lots of Ayahuasca — and answered the group's questions. After this, he performed a cleansing ritual. I jumped at the opportunity to volunteer — check out the video at the top of the post.
Following this, we strolled through a local community which was, to our surprise, very well developed. Schools, houses, and community spaces were built using modern materials. Prior to visiting, I envisioned the village would be constructed out of only what could be found in the forest. We learned that rent is paid by all of the lodges for the land they occupy in Cuyabeno to the local villages. This is the primary source of income for the villages.
How Long to Stay in Cuyabeno
Lodges in Cuyabeno offer packages for two, three, or four nights. We recommend staying four nights if you have the time. Everyone we talked to who stayed two or three nights said it felt to soon to leave.
Since we stayed longer than other groups we were allowed to pick our own activities during our extra day. We opted to paddle a small canoe through a Cuyabeno tributary during the day and trudge through the mud looking for anacondas. That evening, we paddled to another hiking trail along Ecuador's equator line (Mitad del Mundo) and topped it all off with stargazing and snake spotting. It was magical.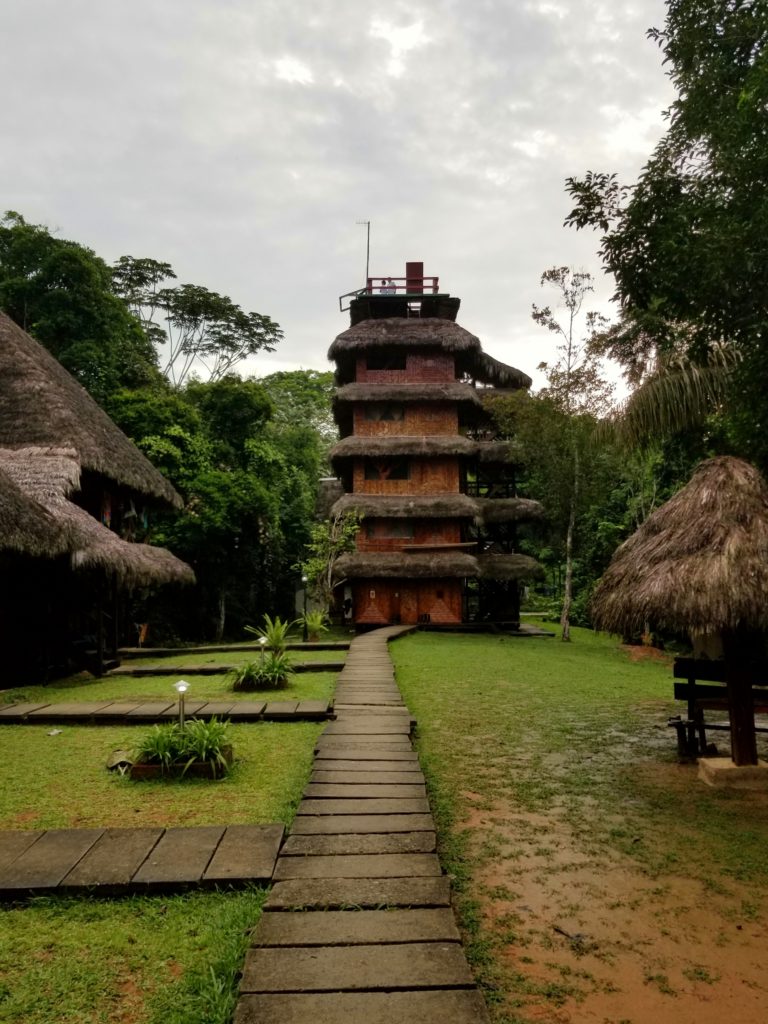 What to Expect at Eco-Lodges in Cuyabeno, Ecuador:
No internet or cell service
No hot water in the shower
Three meals a day provided
Snacks for purchase
Clean drinking water is provided
The beds to have mosquito nets and….
Bugs — Remember those creepy crawly things from the night walk? They will come into your room.
PRO TIP: Do not leave any food in your room!
Sarah left an empty hot cocoa mug in our room and when we came back it was brimming with gigantic cockroaches.
What to Pack when Visiting Cuyabeno, Ecuador's Amazon
Bug spray — a lighter version for every day (and night) and a more heavy-duty one

Sunscreen

Wide-brimmed hats

Quick dry clothes

A bottle of wine (at the lodges they want $30+ for a $5 bottle)

Cash to tip your awesome guide (10-15%)!
More Travel Ideas for Ecuador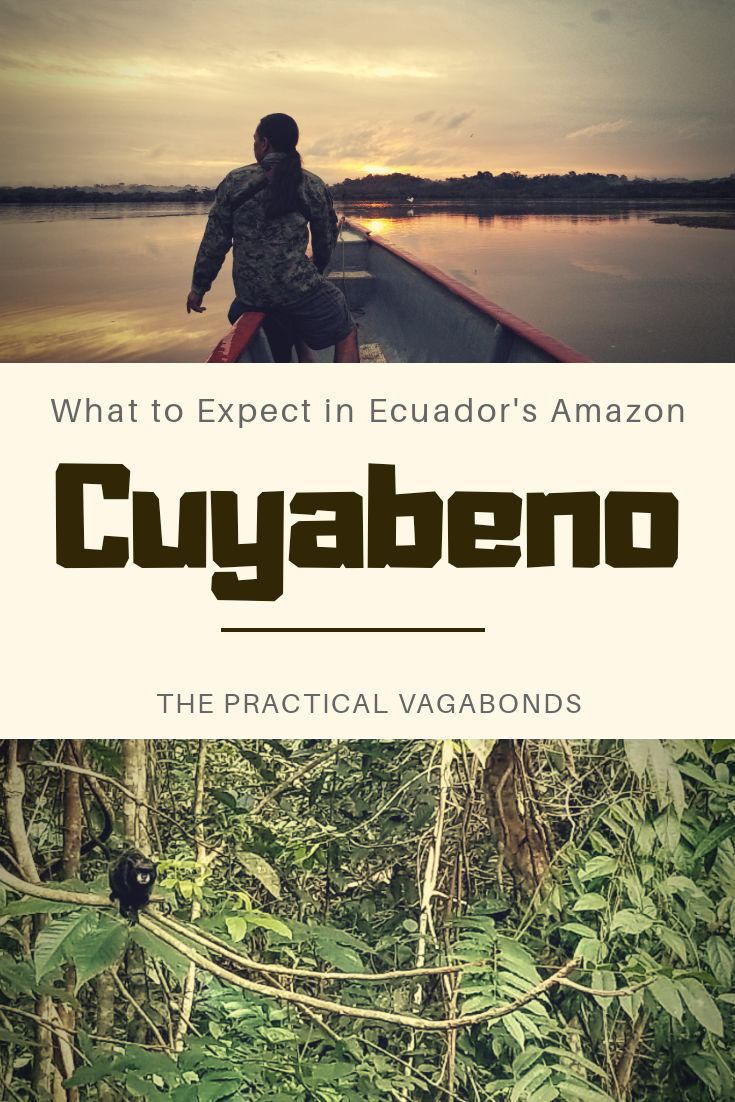 Want to explore Cuyabeno Wildlife Reserve in Ecuador?
Pin this for later